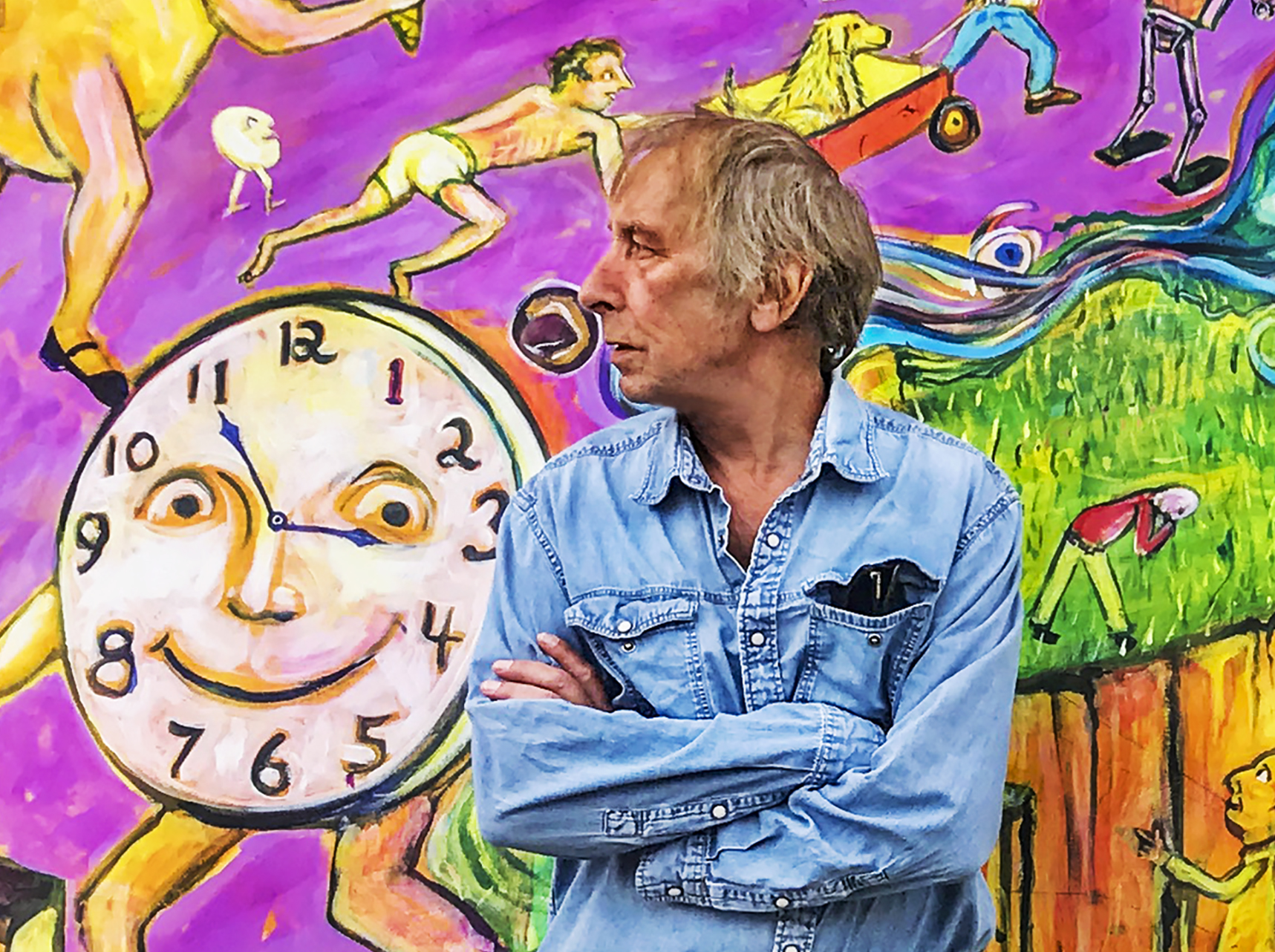 Tony Shull lived and made art in Burlington, Vermont.
After a brief alien abduction as a young man, Tony was sent back to Earth for the sole purpose of inspiring and entertaining us humans. His work is both unique and recognizable, with a self-taught style that ranges from abstract psychedelic to fantastical pieces reminiscent of Hieronymus Bosch. And in many pieces, his somewhat twisted sense of humor always came through loud and clear.
Tony mostly painted on scrap-wood boards but has also used slate shingles, old drawers, and even a junked satellite dish. He created a good number of murals around Burlington, sometimes sanctioned and sometimes "guerrilla-style."
Back in the mid-1990s, Tony even painted the hot tub room for a Phish band member. He also created found-object sculptures and airplane whirligigs, wrote hilarious songs, and built rustic furniture.
Besides making art, he enjoyed beer, potatoes, and playing his fiddle.
Peter Becker
[Rest in Peace, Tony. 1945 – 2021]
---
ART SHOW
April 19th to June 25th
at Sequoia Salon
39 Kilburn Street, Burlington VT 05401
For more information on the show and/or prints email Carolyn at cbatesbt@gmail.com.
---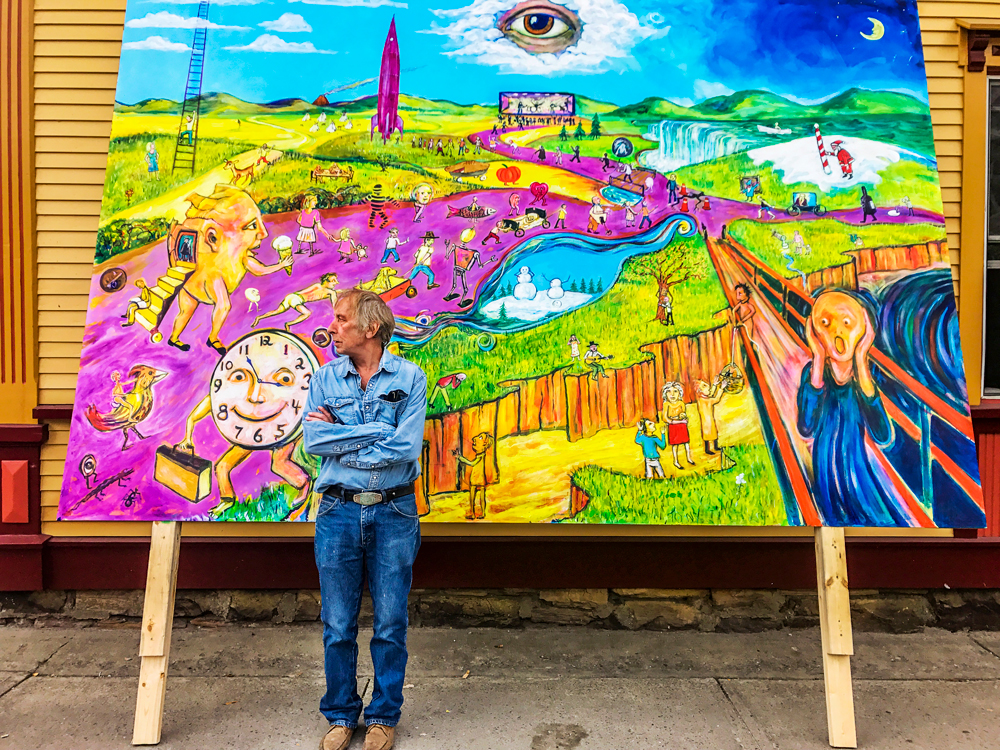 Obituary: Tony Shull, 1945-2021
Burlington artist, musician and creative spirit was known for his colorful murals
Burlington artist, musician and creative spirit Tony Shull left this world surrounded by love on April 9, 2021, after a brief illness.
Born August 31, 1945, in Minnesota to expatriate Vermonters Chester and Frances (McCarthy) Shull, Tony grew up largely in Burlington and lived in various places around Vermont, Wyoming, the Southwest, and the U.S. Virgin Islands, with Burlington as his primary hometown. He was a true child of his generation, unfettered by convention and one of a kind.
---
Art Review: Tony Shull, Sequoia Salon
It's a show nearly everyone in Burlington has seen, though not heard: "Phish Concert," a mural on the North Street side of Nunyuns Bakery & Café, epitomizes a long, strange trip.
Motley pilgrims walk, crawl or ride a chicken on a magenta-hued road toward a distant stage. One of the phans is a creature whose backside is a set of stairs. A smiley-faced clock carrying a briefcase walks in the opposite direction. A huge, deific eye hovers in the sky.
The wondrous landscape includes a rocket ship, a waterfall, a sky-bound ladder supported by nothing, a pair of snowmen, Santa with a red-and-white-striped (north?) pole, and a deep gulch whose occupants seem unfazed to be stuck there. In the lower right corner, a facsimile of Edvard Munch's screamer looks very fazed indeed.
---
Art Broken: A Mural Defaced, Then Cleaned Up, in the Old North End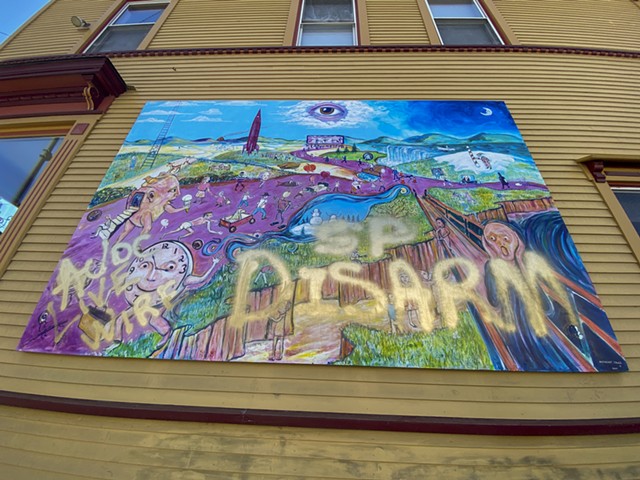 For about 40 years, Burlington artist Tony Shull has painted murals — colorful and humorous pieces that light up his city's streetscape. One adorns the north side of the Nunyuns Bakery & Café building in the Old North End, at the corner of North Champlain and North streets.
Affixed to the clapboard exterior, Shull's lively and intriguing 2017 mural — rendered in purple, blues and greens — depicts people, a spaceship, an eye in the sky, a rock n' roll band, a dog in a wagon and a man in a fish.
Friday evening, Shull's mural was vandalized by a person who used the same medium Shull uses to make art: paint.