**UPDATE**
New Exhibit! ABIGAIL ANNE NEWBOLD: CRAFTING INDEPENDENCE (Click here to learn more.)
---
This exhibit is definitely worth the trip! Better yet, make it part of a vaction or even just a long weekend. Stay overnight and see the Frank Lloyd Wright's Zimmerman's house (part of the Currier Museum), eat at Cotton's Restaurant down in the mill town, or stay at the Ash St. Inn around the corner from the museum, where you can have your own private fireplace in your bedroom.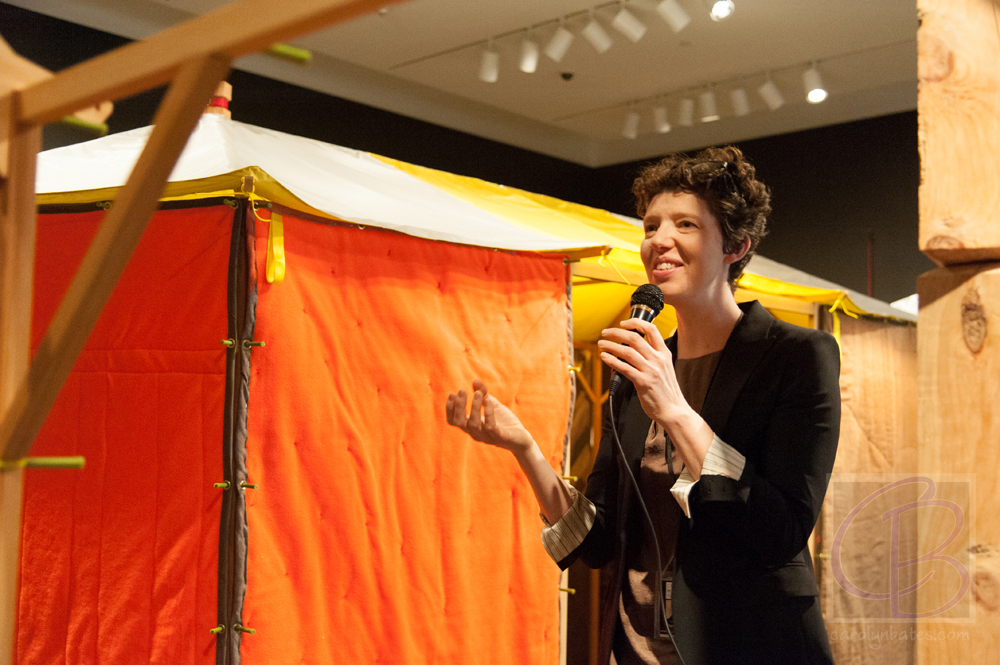 Check out more images, by clicking here.
My Gallery Notes:
Abby has made many of the items you see: like the backpack, and/or has restored old items, like tools, by sharpening and cleaning, and making new handles. She made or found these cool pegs to hold everything together. This way you can take off her hand made quilts used as walls, take down the light weight frame, and pack it all up and put it into the covered wagon, and bike it to your next place to live.
This is her idea of alternative living including all the things you need to do it.
Including a delicer, the horizontal bag w crank and with sleeve under it for your head? and a magnifying glass-- and a seed spreader bag she made with a spreader attached to its bottom.
More about the Exhibit:
The Currier Museum of Art presents:
Abigail Anne Newbold: Crafting Settlement
March 30 - July 14, 2013
Crafting Settlement turns a museum gallery into a diorama of a fictional homestead on the fringes of modern society. Exquisitely custom-crafted objects, including modular dwelling structures inspired by the 19th-century farm architecture of New England, combine traditional craft techniques and modern materials to create a personalized brand of domesticity and self-sufficient living. This installation reclaims the value of quality construction and aesthetic integrity and comments on a history of utopian projects in search of alternatives to mainstream culture.
FIRST THURSDAY LIVE! with the artist Abigail Anne Newbold
Thursday, June 6, 5:30 - 7:30
Explore Crafting Settlement and bring your questions about artistic process and motivations to the artist, who will be available for questions throughout the evening.
First Thursday programs are free for everyone throughout the summer.
---
Take a look around the Exhibit!
(Click on the thumbnail to enlarge photo.)