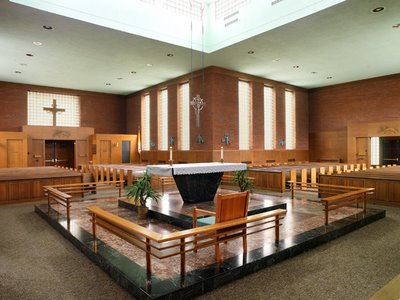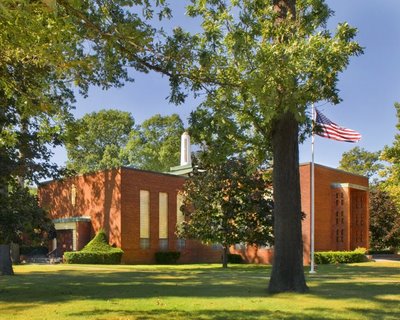 In 1941 Ezra Stoller, internationally known architectural photographer, shot St Marks Church in Burlington, Vt, for the local architectural firm Freeman French Freeman.  AIA of VT has just presented one of its top awards for design to FFF for this church.  Congratulations FFF.
Being the first catholic church to have a central altar with seating on all four sides, and the first shaped like a cross, it shocked the catholic world and became world famous. The story even made the headlines of the NY Times!
Now, Carolyn L. Bates, (that is me) was awarded the job to rephotograph this church for the same client Ezra had, FFF. 
I studied under Ezra at Harvard Univ. in the 1980's.  He was a genius. With an incredible gift for finding just the right mood and camera angle for each building.  Now it was up to me, to work after him, to not copy his images, yet find something very unique that expressed the church as it stands today. I wandered around and around the inside of the church, seeking a new angle, yet still showing the altar in the center, and the seating on all four sides, and the skylight above. It took me many attempts, starting first with Ezra's original interior images and slowly moving around, to find a new one. 
I used Ezra's principles for the exterior. I visited the church many times during the day to see how the light fell on it, how various features would be highlighted or hidden in shadow.  How the trees worked around it. And how I could include all the items that my client, FFF wanted. On the third day I went out, with still no real success, even standing out in the middle of North Avenue, two young men asked what I was doing.  Off of work for the day, and being "tree men for landscapers" they soon saw a solution. They hopped up very high and gently pulled branches out of my way on two trees so I could shoot the angle I wanted.  Was I lucky!  Thank you Ezra for all that I have learned from you.  I am humbled to be following in your footsteps.