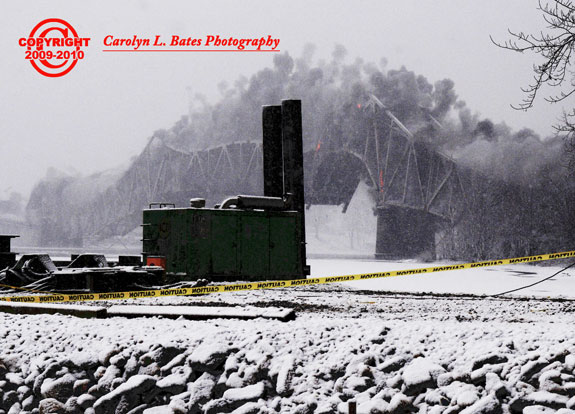 On December 28, 2009, transportation workers from New York and Vermont demolished the bridge that had spanned the southern part of Lake Champlain for 80 years.
The bridge built in 1929, took only moments for demolition to be complete. The demolition was set to happen on Wednesday but icy weather slowed down the crews.
Because the snow was falling heavily, making it very difficult to see the bridge. Though that didn't stop people from trying to see. 1.5 miles was parked solid with cars and people on the Vermont side.
The Bridge Restaurant, which is situated at the end of the eastern edge of the bridge in Vermont, has renamed itself, the NO Bridge Restaurant. Lisa, the owner, served coffee hot chocolate, donuts and pasteries, and gave parking spaces to the handicap, the press, and to the many people who volunteered their help to see that the demolition of the 80 year old bridge was done safely.