By Lake Champlain Committee Staff Scientist Mike Winslow
December 2009 Lake Look • Lake Champlain Committee
Illustration Credit: Detail from Marley's Ghost by John Leach 1843
Hear 'A Lake's Carol' read by the author
{mp3remote}http://www.lakechamplaincommittee.org/uploads/media/LCC–A_Lake_s_Carol_02.mp3{/mp3remote}
 
A Lake's Carol (with apologies to Charles Dickens)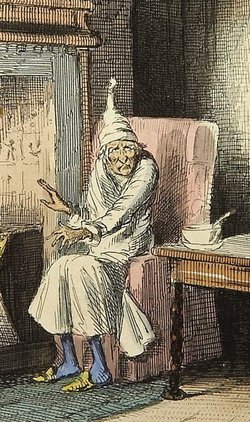 "Merry Christmas Uncle Eben! How was your summer?"
"Meh, it was miserable.  I rarely even made it out to my lake house.  Who would want to with all the pollution in the water these days?  The politicians should really do something about it."
"Surely you're joking Uncle Eben.  Your lake house is stunning.  Gorgeous views, wonderful fishing and a great swimming area.   It's a crime to not use it."
"Meh"
*****
That evening, Uncle Eben was visited by a specter, covered in slimy weeds, a visage he knew, his old neighbor from the lake house, dead now these seven years.
"Jake," cried Eben, "What do you want with me?  What's with the salad around your neck?"
"I wear the weeds I grew in life and wish to protect you from those you are growing" uttered the spirit.  "You will be visited this evening by three spirits.  Only their tales can save you from the fate I have suffered."
With that the spirit was gone.  Eben rose from his chair and secured the locks on the doors and windows, wondering at the vision he had seen.
Read the complete tale on the LCC website.