by John Hausner
One of my "honeydo's" last week was going though some guy's junk drawer items laid out on our dining table that Bonnie demanded that I deal with.  One of the items on the table was an old tarnished gold pocket watch that I had inherited from my father via his father that I hadn't really looked at in a decade. My grandfather was a railroad scheduler, so a watch really meant something to him.  When I began to look more closely at this watch and opened it, I was blown away by the workmanship  – the engraving on the case and the mechanics of the watch itself. The refinement and pride expressed in this little item, I realized, was something that has largely been lost in US manufacturing in the last century.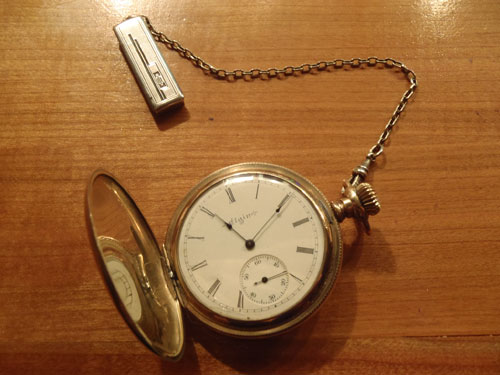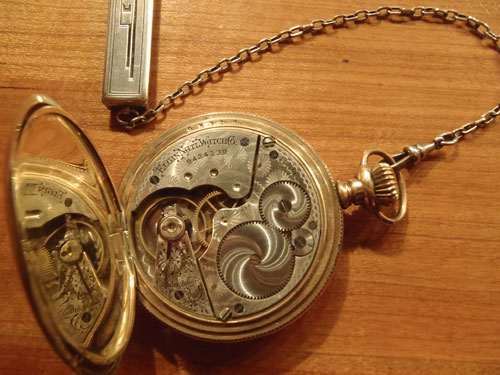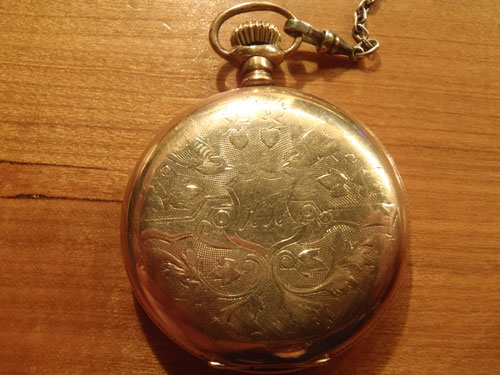 The watch wouldn't run,even after I wound it, but I decided to polish up the case and it's inner workings with some metal cleaner.  I worked on it for about a half an hour and the thing seemed to take on a magic and come back to life.  I looked down after opening it one more time and the watch was running .  It had " felt the love". I googled the Elgin Watch Company and put in the serial number of the watch.  It was manufactured in 1901.  It isn't worth a lot of money – probably only a couple hundred bucks, but I will always keep it, because it will remind me of my grandfather, and of the manufacturing genius and love that used to be incorporated into ordinary products in our country. The little paragraph below is a quick read on the Elgin Watch company.  The attached photos above are some shots I took of the watch last night.  Look at them – this was not a cheap watch in 1901, but it wasn't particularly expensive either, as explained below.  It is still keeping perfect time this morning – 109 years after its manufacture and no maintenance for probably the last 25 years. 
A Quick History of the Elgin National Watch Company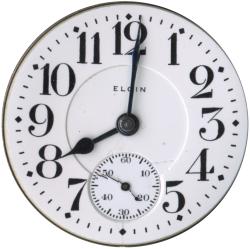 Elgin was founded in 1864, right as the civil war was coming to an end. The first watch Elgin made, an 18 sized B W Raymond railroad grade watch, was finished in 1867 and over the next 100 years, they went on to produce about 60 million watches. Elgin produced their first wristwatch around 1910, leading most other American watch companies by many years.
Elgin was originally called the "National Watch Company". The name never really stuck and in 1874, they changed their name to the "Elgin National Watch Company" because most of the watch trade and public were calling them "watches from Elgin". They kept that name until the late 1960s when they stopped producing watches and changed their name to the "Elgin National Industries".
Elgin was founded on the idea of mass producing high quality pocket watches using machine made, interchangeable parts. Up until around 1850, watches were made mostly by hand, which meant that if a part broke, you had to find someone with the tools and skill to make a new part.
Elgin realized that there was a large market for good watches that could be sold and repaired relatively cheaply using factory made replacement parts that didn't require hand adjusting.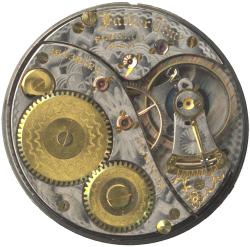 Elgin never made the very highest quality watches in the world, nor did they make the very cheapest, but together with Waltham (aka The American Watch Company), they dominated the vast middle ground of the watch market.
Today, collecting Elgin watches is quite popular. Because Elgin produced so many watches and produced so many spare parts, they can still be easily bought and fixed, so even a 100 year old Elgin can be used, with care, on a daily basis. While mechanical watches can't compete with quartz watches for accuracy, there is something about having a watch that ticks that a quartz watch just can't replace.