At Home in Vermont: Old Lot, New Ideas

An award-winning home in Burlington's historic North End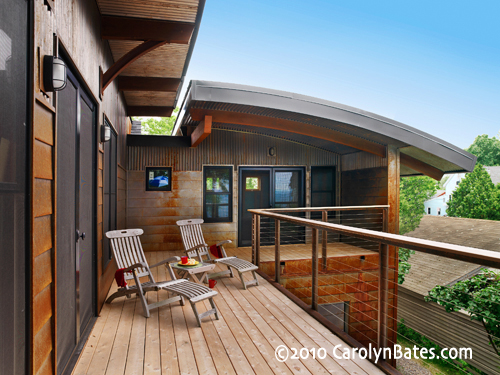 Story by Kathleen James
Photos by Carolyn Bates
Exterior Photo Credited to Peter Larson
Vermont Magazine • November/December 2010
A few years ago, Alan Newman bought a narrow lot on Lakeview Terrace, in Burlington's Old North End. The existing home was small, a clapboard singlefamily residence built in the early 1900s as worker housing. The building faced the street, with untapped backyard views of nearby Lake Champlain. The streetside orientation had historic origins: In the 19th and 20th centuries, the Burlington waterfront was not a pretty sight. It was a place of industry, bustling with timber mills and shipping docks, rail tracks and, eventually, a bulk petroleum facility.
Newman loved the location, with its view of the revitalized waterfront and Lake Champlain beyond. He hoped to tear the old house down, but city zoning required it to stay. And so began the challenge he embarked upon with architect Thom Wood of Time Line Architecture and building contractors Leach Construction of Vermont.
Download the full article by clicking here.
Special Thanks from Carolyn:
I want to personally thank Judy, Todd, and Andy Leach of Leach Construction of Vermont for believing in me as the proper person to photograph their masterpiece house for Alan Newman. They were a tremendous help while I was shooting. They were outside with huge black sheets to cover the windows, made artwork out of plates of watermelon, and found all needed furniture/props to style this house so beautifully. On top of that, they were able to work with a last minute addition to furniture found by the owner. Judy put the new, luxurious leather couches and chairs on a diagonal in the living room, making the room just sizzle. Also, a huge thank you to owner Alan Newman for his thoughtful suggestions, and for posing long enough for us to get the optimum portrait of him with his latest yellow eyeglasses.
Thom and Lyn Wood, Architects, Time Line Architecture
Judy, Todd and Andy Leach, Leach Construction of Vermont