Restoration of Vermont Painted Theater Curtains
vmga.org
SHOP at CURTAINS WITHOUT BORDERS
EVENTS and EXHIBITS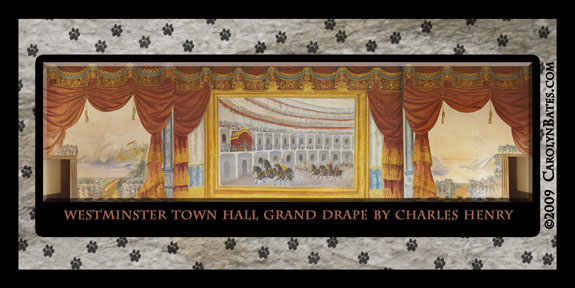 The Vermont Painted Theater Curtain Project began in 1996 with a survey to find and assess the condition of Vermont's collection of historic theater curtains. At the time, we knew of only a half dozen curtains, but the number is now up to 185. As of January, 2010, 172 have been stabilized, mended and judiciously in-painted. About 150 have been installed for display on their home stages in town halls, grange halls, community theaters, and opera houses. About 20 are ready to be installed when the stage is ready for them. We have put only half dozen curtains into "deep" storage because they are really too fragile to be used. All this has been accomplished since we began conservation work in November, 2002.