Ingenious Solution by Jeff Parsons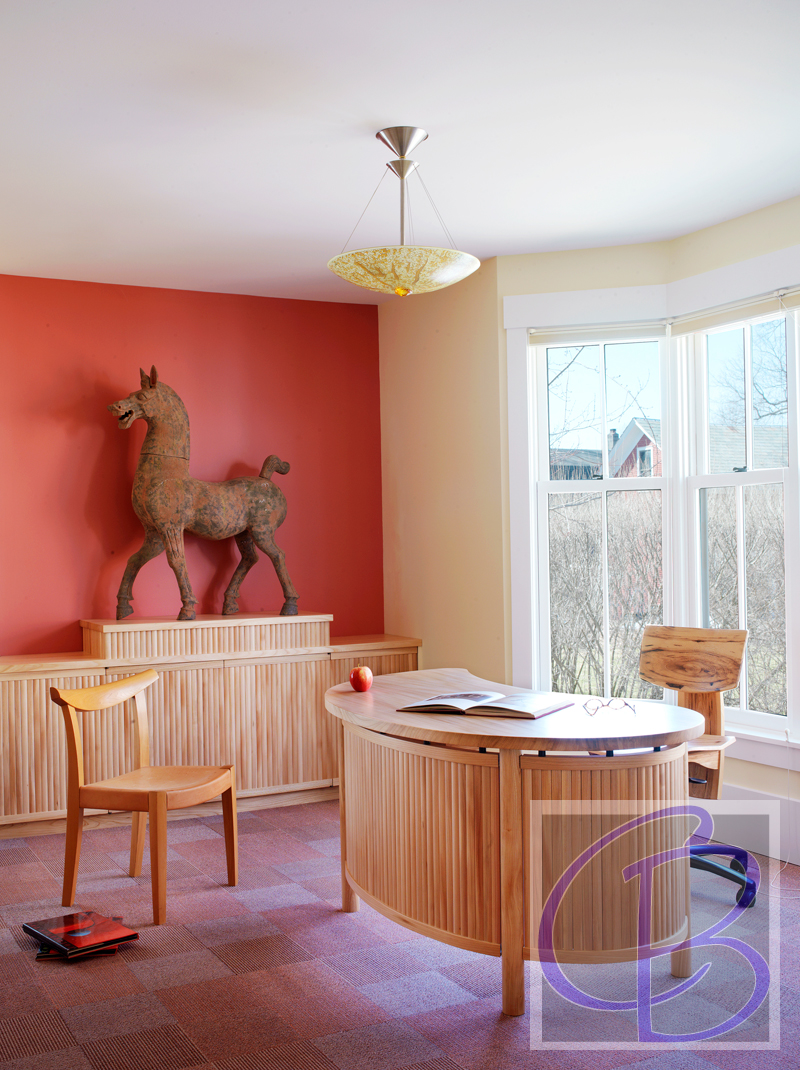 I had the pleasure of photographing this office for Jeff and Bruce. Just look at the detail in this desk.
The furniture that Jeff and Bruce build is with a love for wood and a knowledge that is miles deep with experience. Their workshop is in the farm barn, at Shelburne Farms. It is worth going to meet both Jeff Parsons and Bruce Beeken.
While at their shop Jeff told me this story….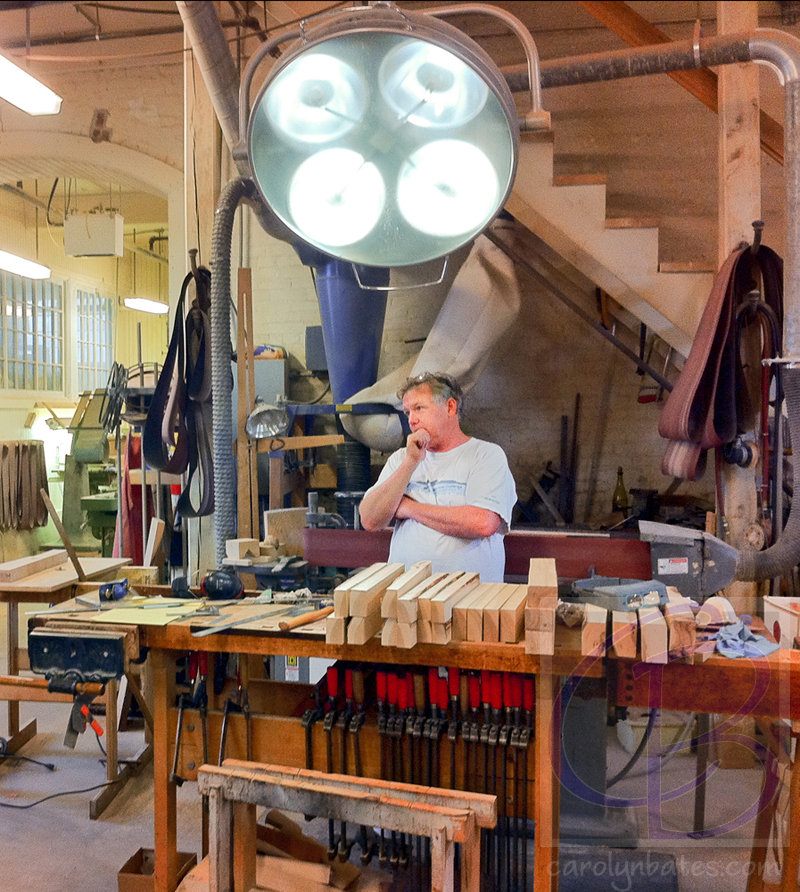 Guitar design solves bowed wood problem. Ingenious.
written by Jeff Parsons
People call us up all of the time asking us to come look at their trees, to see if we want them for lumber. One tree, from the side of the road near their shop, was sawn and stored for 18 years until it was finally used to make a table for a client. Since the wood in that table, designed to go with a set of Hans Wegner chairs, came entirely from one log, the grain and color consistency is remarkable.
Solid wood often has a mind of its own. The table was an extension table with two leaves. The wood in the top and leaves was quarter sawn (sawn from the log radially). Quarter sawn wood is very stable and, after 18 years in storage, is even more stable. Careful milling resulted in leaves and top that were straight and flat-at first. However, one of the leaves, for some reason, as wood will do, bowed. The alignment between leaves and tops used hardened steel bushings and steel pins. There was about .007″ of clearance, in other words if the leaves and top weren't perfectly flat they wouldn't go together easily.
Several years prior to building the table Jeff's son expressed interest in playing electric bass guitar. His Christmas present was an inexpensive package including bass, amp and cord. It wasn't long before the neck on the bass warped and twisted. They decided to build a new bass. The system used in bass guitars ( and other guitars too) to counteract the tension of the string tension is a truss rod. The truss rod lives in a slot with a curved bottom. Tension applied to the rod applies pressure to the curved slot and bows the neck in the opposite direction from the bowing caused by the stings.
The truss rod system provided the solution for the bowed table leaf. Slots with curved bottoms and precise pockets for nuts were routed into the bottom of the leaves and rods were fabricated to fit the slot. A wrench was shaped to fit the nuts and the leaves were flattened to a perfect match with the top.
More About Beeken Parsons
Vermont Furniture created by Bruce Beeken and Jeff Parsons celebrates wood. From the forest to their workshop to the rooms in your home, the story of each tree is found in their commitment to sustainable forestry, use of native character woods, dedication to craftsmanship and thoughtful design. Wander through the site and find out more about Vermont Forest Furniture. www.beekenparsons.com