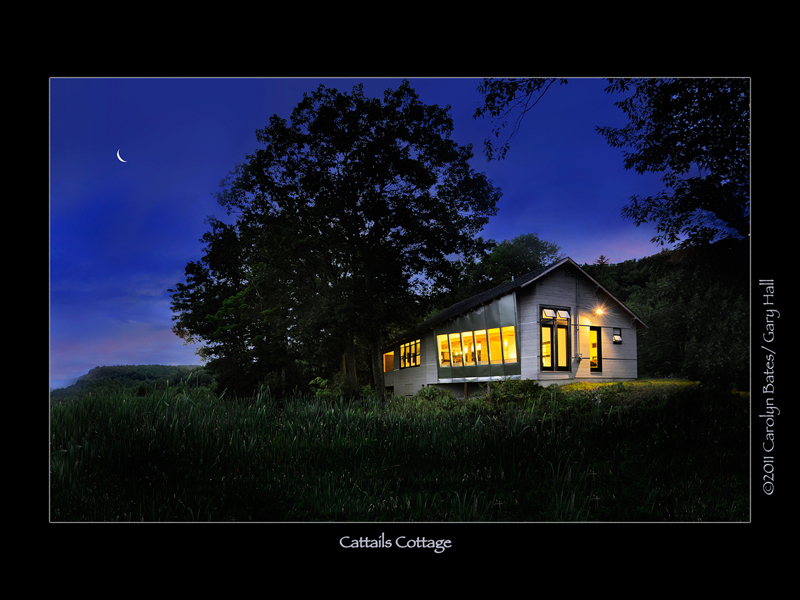 Owners Robin Brand and Neda Ulaby celebrated the completion of "Cattail Cottage" with a party to honor those who worked on their jewel box of a second home. Its unique design allows Cattail Cottage to accommodate a crowd and still feel roomy in under 1,000 square feet. Converting zoning restrictions into a positive feature with an angular bay window brings the cattails of Lake Bomoseen into their Living Room. Architect Joseph Cincotta of LineSync Architecture, contractor Rich Rivers and their respective teams enjoyed collaborating with the owners on many custom details, including concrete counter-tops, 'Rice' textured marble shower, reuse of existing windows for kitchen cabinetry, "Zinc Gift-box" sink.
---
"Wow. These pictures are amazing. I'm really blown away by your work."
– Neda Ulaby | Reporter, Arts, Entertainment and Cultural Trends
---

Meet the Team:
Linesync Architecture Team: Joseph Cincotta, Kristian Whitsett, Adam Lemire, Sybil
Idelkope, Aaron Honsaker, Leah Decker, Jonathan Saccoccio, Kendrick Waterman,
Connie Hall, Donna McDonald, Julie Lineberger
Rivers Building and Consulting: Rich Rivers. General contractor and custom furnishings
Concrete Detail: Rich Holshuch. Counter tops and custom waterfall sink.
Brattleboro Sheet Metal: Kenny Whitworth, Kevin Whitworth. Zinc box sinks.
Kitchen Art: Patrick Mullen
Stone Source: Lynn Simler. Rice grain marble and satin glass tiles.
Conant Metal and Light: Recycled Light Fixtures