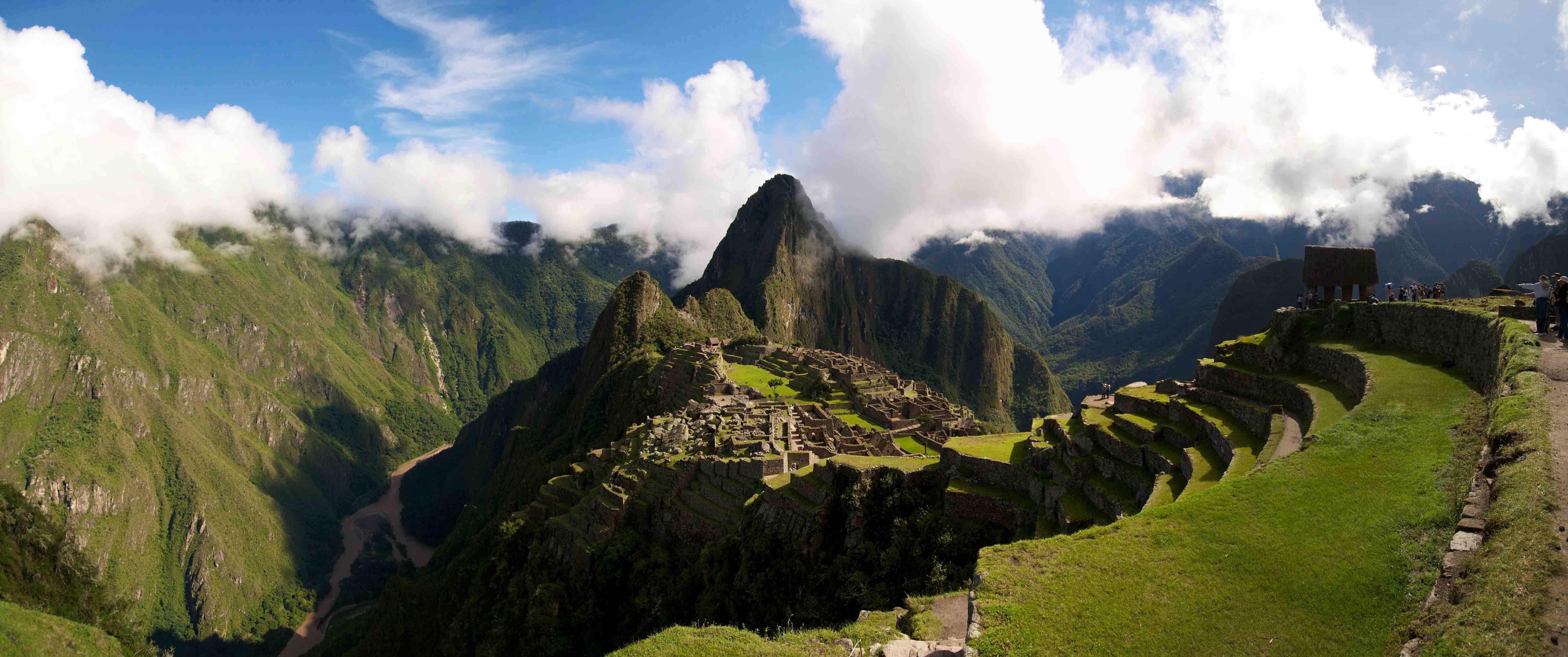 Pat Pomerleau just sent me this awesome panorama.  And with it, she told me how she photographed it and what she did in post production.  Wish I could make my body at steady as she can and shoot without using a tripod. I am very impressed with her work.
How did she get this amazing shot? Here is what Pat had to say about that…
"This panorama is a composite of 14 photos (50% overlap) was taken sequentially at Machu Picchu on the most gorgeous day you have ever seen. I stitched them together using a Microsoft ICE which allows me to compile the images seamlessly. Looking at it you would never know that it is made up of 14 photos. The software works by itself, you drag the photos into the software and it just starts stitching. It is pretty amazing. You need a PC compatible computer, so as I have a Mac, I use Parallels on the Mac, so I can use both Mac and PC programs. To take the photo, I used my Nikon D90 and a 10-24 wide angle. Since you can't take a tripod to Machu Picchu, I photographed handheld, pivoting from the waist. The key is surveying the scene to make a decision what you want to take a photo of, and then using you waist as a pivot and not moving your arms, turn evenly (and quickly) and take as many photos as it takes to complete your scene making sure there is a 40-50% overlap. I took this panorama in one pass, horizontal, left to right using a wide angle at 10 mm which makes it easy to take a shot like this. You can use a a telephoto, but you need to go vertical or your panorama is too skinny (unless that is the look you are going for).
---
Take a look at the high resolution version. No matter how much you blow up this photo, you cannot see where it has been stitched.
---
Though I took multiple panoramas from different spots at Machu Picchu, this view is the first photo I took. The clouds were too perfect, but they were moving. I had to get it fast and I just could tell it was going to be perfect when I did it. I got to the top, took a couple of breaths (air is very thin), pulled out my camera and took the panorama. Voila. Sometimes amateurs can get things because we don't know what we are supposed to be worried about. Sort of the photographic "fools rush in…"
 
I was in the ruins for eight hours just climbing up, down, and around. I didn't take panoramas higher up the mountain, I did them lower down.  I like panoramas that are closer of more intimate places.   Mountains and clouds are over rated. Sometimes even Moroccan laundry on brambles makes a nice panorama."
Photographer's Note from Pat: Some experts say that you don't need more than a 20% overlap for panoramas. I have found however, that if you want no seams at all, you need to give the software more "overlap" information to make decisions. When I do a 50% overlap, the photo is seamless at the highest resolution when I use ICE for stitching. I have also found it keeps me far steadier because I am  making very small moves as I pan across the landscape. 
You can read more about Pat in Carolyn's article "Fan Fare: Patricia Pomerleau's Amazing Images"