Bet you can't guess who this is!  Baseball trivia for the boomers.
First winner gets a print.
(Add you comment below & enter to win!)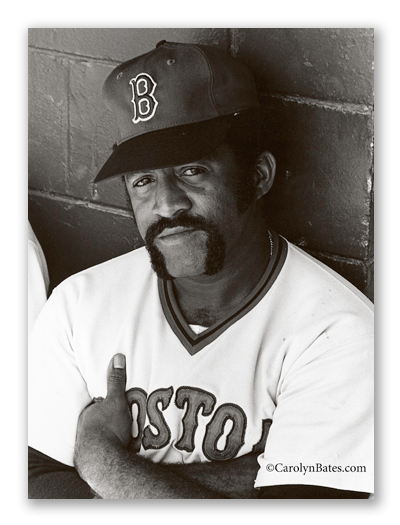 Driving around Florida, with camping gear in the trunk, Beth (age 23) and I (age 28) rolled into Orlando where Beth's favorite team was playing baseball. She really wanted to go to the game, but we had no money. You could hear the wheels turning as minds went were coming up with plan after plan until we finally got one.
Plan 14:
Let's see if we can get into their dugout that night as a press reporter and a photographer and actually meet the star pitcher, her idol. Go for broke, right.

Giggling, we quickly made press passes using heavy white paper, tape, safety pins, black ink and polaroid photos. (This was all pre 9/11). We grabbed our tape recorder, writing tablet, and cameras, and were ready to go. Waving our passes quickly by ticket takers, we stumbled around the field, trying to find her team. Before I continue, I should explain how we got away with this. My roommate was gorgeous, young, and blond.  Heads were twisting everywhere to see her, ignoring me and our press passes. 
After ten minutes of searching, with knees knocking, we literally fell right down into the dugout of her favorite team. 

The manager yelled "No Dames in the Dugout!" Then spit a wad of tobacco at us.
No one listened. They were watching Beth. I took his photo.  

As we kept looking around, there was no sign of Beth's idol. We talked, I took some photos, and guessed who was who.
And then, in he walked, watching Beth's every move and sat down next to her, smiling the whole time. Beth, stammering,  attempted her, very first in her lifetime, interview. It mumbled along, while I continued photographing other players.
And then I overheard her asking:  "And what do you do when you are not playing baseball?"   I turned my camera on him while he slowly replied, watching her every move,  "Well…I watch a little TV, drink some beer,…(long pause)…and are you busy for dinner tonight?? " 
Beth almost passed out. And I got this portrait. 
How is your baseball trivia? Can you guess who this is?
Here are some tidbits from Wikipedia® that may help you figure out who this baseball great is.

He was born November 23, 1940 in Marianao, Cuba

He is a former right-handed starting pitcher in Major League Baseball who played for the Cleveland Indians (1964–1969), Minnesota Twins (1970), Boston Red Sox (1971–1978), New York Yankees (1979–80), Pittsburgh Pirates (1981) and California Angels (1982).

He is only 1 of 5 pitchers to have pitched four or more straight shutouts in the 50-year expansion era, with Don Drysdale (six, 1968), Bob Gibson (five, 1968), Orel Hershiser (five, 1988) and Gaylord Perry (four, 1970) being the others.

In his 19-season career, he compiled a 229-172 record with 2416 strikeouts, a 3.30 ERA, 187 complete games, and 49 shutouts in 3,486.1 innings. He was inducted to the Boston Red Sox Hall of Fame in 1997.

Well known for his great pitching, unique delivery, charisma, and as an avid cigar smoker, he launched a line of cigars that he formulated and designed, branding them with his nickname.

Quote: "If we lose today, it will be over my dead body. They'll have to leave me face down on the mound."

Quote: "Sometimes things go wrong, even when you're doing your best. That just shows that none of us are perfect. So I keep trying with all of my heart, and if that's not good enough, I'm not going to hang my head."

 Figure it out yet? Add your comment & win a print!