by Richard Kellogg
Several of my friends have asked about my father's, Spencer Kellogg II, first airplane:

Dad started taking flying lessons in July, 1931, at age 17 in a "Fleet" biplane and passed his pilot test August 10th, 1931 with 17 ½ hours of flight time. He continued flying a "Fleet", "Waco", "Curtiss Junior", "Bird" (with the famous 0X5 engine) and at Cornell spent many hours flying, including flying instructing, at the Ithaca (downtown – now a mall) airport with "Pete" of Peters flying service. (Ithaca's airport is now up on the bluff outside the city.)

Dad's "C3" Aeronca NC12418
In 1934 for his 21st birthday his father, Howard Kellogg, bought him the used "Aeronca C3" (NC12418) shown in the above photograph. The "C3" is a two place airplane (side by side) with a 36 horse power single magneto engine. Gross weight is 1006 pounds and empty weight 569 pounds. In the summer the doors came off and floats were put on. Cruise speed was about 58 knots. There is a "C2" Aeronca similar but a single place in the Smithsonian. These planes were the beginning of the "affordable" airplane movement later taken on by the Piper Cub. The "C3"came as a very basic airplane: no breaks, tail skid instead of a tail wheel, non-sensitive altimeter (i.e. gage to closest thousand feet), gas gage was a wire to a cork in the fuel tank, and no electrical system (running lights off a "hot shot" battery – only used near a city to save juice). Taxiing on a windy day would be very tricky usually requiring a "wing walker" for stability.
Dad used this airplane for sport, to commute from Lochevan (the Kellogg estate on the American lake shore near Buffalo) to Cornell, some travel, and to drop in on my other grandfather's yacht, the Holimar. Mom's dad, Frank Webster's yacht was a 38 foot mahogany cabin cruiser that he used to cruise around Lake Erie, the Finger Lakes and Canadian Lakes accessible by the New York State canal system. The Aeronca on floats would be tied up behind while Dad spent the night.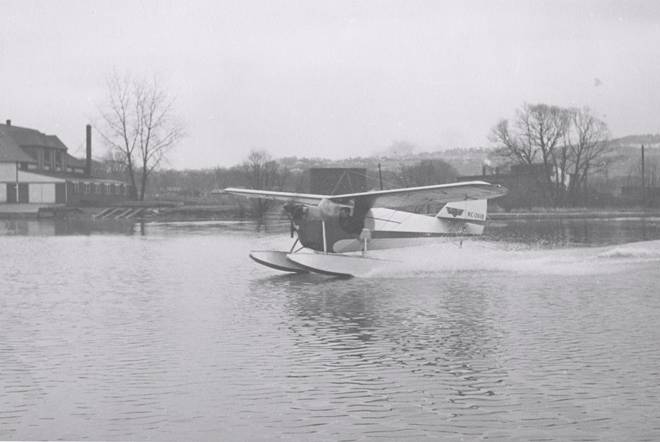 Aeronca on Floats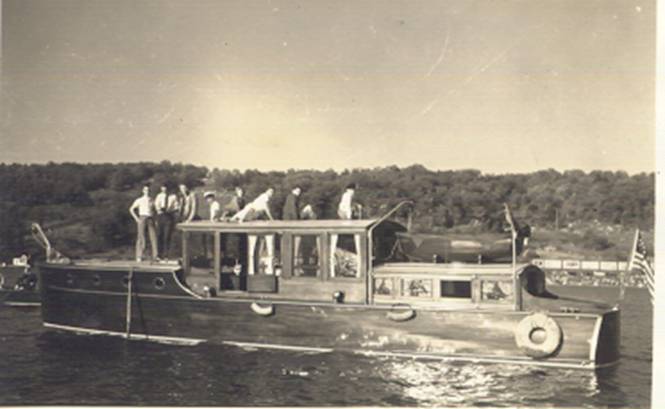 Holimar
This was before Dad and his cousen Nell Mann built the landing strip at Lochevan. Dad tried landing on Lochevan's polo field once. Landing was OK but on takeoff a sharp 180 degree turn to avoid the tall trees at the end was required. After that adventure, he used the float configuration and landed on Lake Erie. More than one elegant dinner party in the "big house" at Lochevan was interrupted when the German butler was summoned down to the beach to roll up his pants and help "Spenny" rock his plane up on to the beach (first one wing then the other).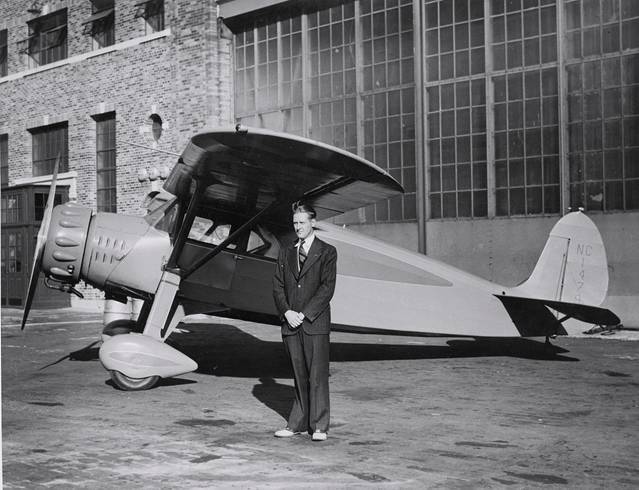 Spencer Kellogg II in front of his Fairchild with a Warner "45" engine, NC14793
In 1936 after two years and 265 hours of flying the Aeronca, Dad sold it and bought a slightly more practical used three place Fairchild, the one he and my mother flew to California to honeymoon and start their married life out there. Dad's job was a "field engineer" for the Sperry Instrument Company at the Lockeed Aircraft Company. (In fact, he helped set up Howard Hughes' Super Electra airplane that Hughes circumnavigated the world in.*) An airline pilot bought the Aeronca and unfortunately a couple of years later it was destroyed when the hangar where it was stored burned down. To this day, I think Dad regrets not having his Aeronca on floats around to play with.

– Dick Kellogg
November 23, 2011
rkellogg@sover.net

*Dad found Howard Hughes to be an intelligent man, very interested in getting the details correct. Later, as a result of a personal conversation with Hughes, Dad came up with the idea to mount the gyroscope in the Sperry Artificial Horizon on a 7 ½ degree angle to compensate for the pitch error inherently induced when executing a (standard rate) turn. This practice was copied all over the world, except for in France where they decided to live with the error.