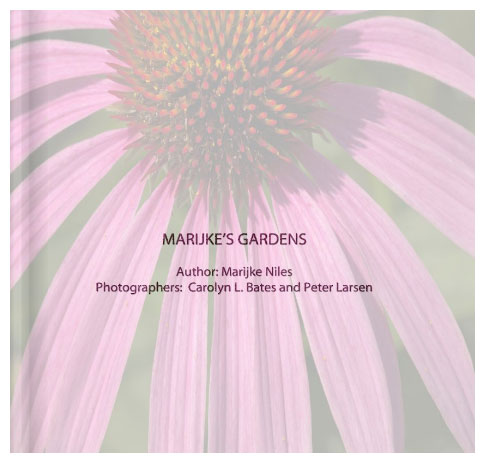 STORY OF MY LIFE
by Marijke Niles
Call me a nature junky.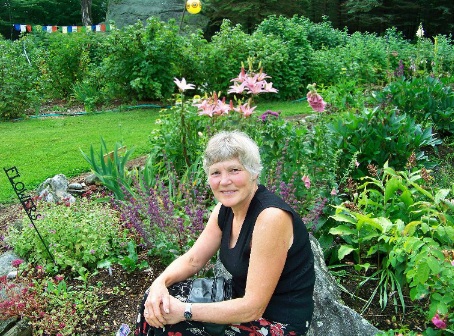 Yes, my Dutch genes predisposed me.
I was born with a watering can in hand. Did that can come in handy: I watered mamma's plants, Oma's plants, elementary school plants, high school plants, and all of my own plants, be it in the house, on a balcony, on a patio, or in a garden. I filled and topped of thousands of vases with homegrown and store bought cut flowers. I am even guilty of having them in hotel rooms, and carrying flowers through airports.
My first gardening experience memories are lots of mowing with a push-mower and grass raking. I can still smell and hear the quiet afternoon with the swishing sound of the bamboo rake. There was something so peaceful about it. All the same, I am happy that Price likes to do it (well, yes, with a tractor).
My love for parties and entertaining has much to do with a show of a house full of flowers, although I don't need an excuse.
I am known to be a master plant and seed smuggler. The stowaway papyrus in the fancy Arzberg tall coffee pot, waited 40 years to find good use. The cats love to nibble on it. Forget about catnip and catmint. The seed for hot Italian lantern peppers earned remarks from fellow nursery owners. Most of the little cuttings made it alive and well and have been treasured. I even transported some heart -shaped leaves from Kirsten's apartment. She was well raised, but I did not ever expect that I would be snipping of my daughter's plants. Yes, she has the bug as well. Marc has kept plants alive for years as well. I must say, I was surprised and tickled that my son needed a plant to call his place home. Flowers have a special place in his heart.
But then, I should have known.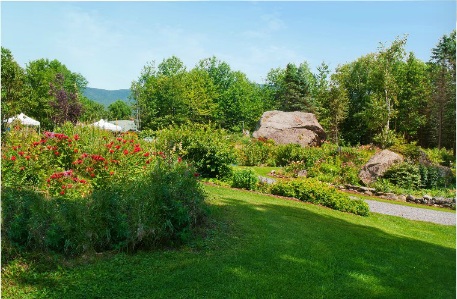 After all, I raised Kirsten and Marc with manure and mulch. I remember my husband Price's face when I let them use the manure and mulch piles as a playground. Kirsten certainly remembers unloading a whole truck of it to get that dress. Kirsten, Marc, and the flowers grew up to healthy, vibrant, and exuberant participants of nature's wonders. And Price? He now moves manure with his fancy Kubota and loves to see the plants thrive! (See page 35!)
I have to admit: I am easily bored and like variety. I like perfection, but not too perfect as I mature ever so slowly. Take all the catalogues that descend into my mailbox. Perfect flowers, perfect vegetables, perfect fruit. Boring.
Not to worry, that is not how nature grows those things. There are bugs, worms, funguses, thunderstorms, hailstorms, snow storms, ice storms, wind storms, and Irene's floods. (in Vermont all of those events are possible in one month, it doesn't even have to be winter for that.)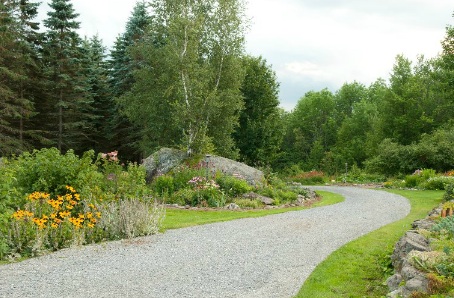 Thieves galore: Birds (yes, you beautiful robbins), ground hogs, wild turkeys, chip munks, squirrels, sweet little bambi and her deer mother to just mention a few.
Take into account the human erring mind, forgetting to water, overwatering, over feeding, underfeeding, wrong soil, too dry spot., too wet a spot. You get the idea.
All of a sudden gardening is not boring at all. It challenges the mind and in the meantime you get a new appreciation of how complex growing all this stuff is. Add lots of biodiversity and you have the most exciting live performances all the time. Nature keeps my mind busy.
I have had the great fortune to have been able to create nature havens from bare land several times. Well, I helped create. I have yet to invent or to create a plant soil, water, or anything that makes life exist.
With the great assistance of Kirsten, Marc, Price, Kirsten's boy friend Giles, and more recently, Lis, we moved mountains and created the most beautiful gardens to be enjoyed by people and all creatures alike.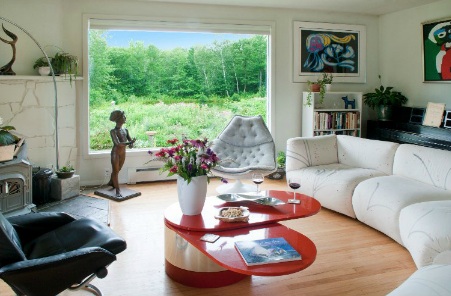 It took just a little patience as well. We fortunately did not keep track of how many times I went on and on about those bluebirds or the fabulous blueberries. Not to mention gardens I had been thinking about for a while and then took shape in my head. Beware those around me at that moment and were recruited to help on the spot, right now, to make dreams come true.
We have shared many special moments: Fledgling blue birds, snake events, berry picking feasts, endless tree clean-ups, hole-digging, admiring nature in all its forms.
Enter Carolyn Bates and Peter Larsen, who photographed the gardens with such enthusiasm, detail and perfection to create this book.
So many gifts , so many beautiful moments, that I treasure.

I am grateful.