by Carolyn L. Bates with contributions by Linda Lacroix
Picture Perfect!
This Tennessee Log Home glows in its winter setting overlooking the beautiful Catskill Mountains.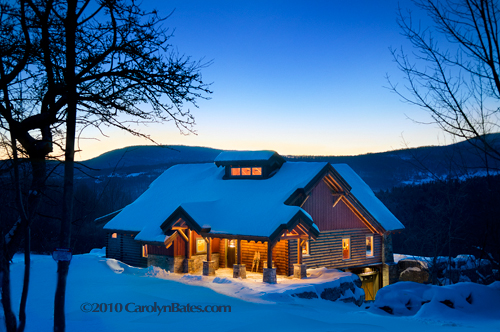 Architect Alec Walker

This Award Winning Log Home designed by Architect Alec Walker, built by Aspen Construction, glows/shines at night within the landscape with the beautiful Catskills as its backdrop.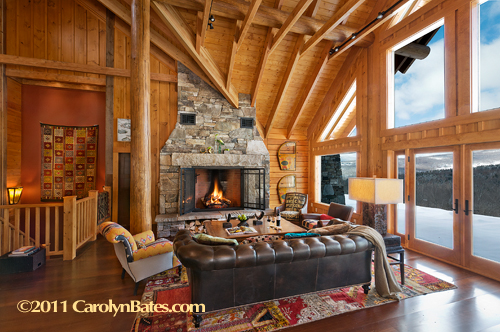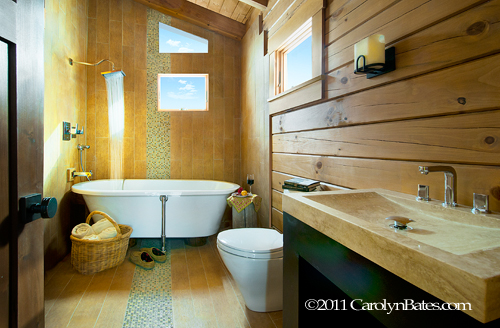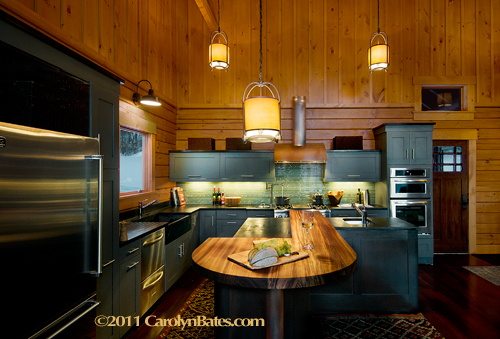 Who would not want to live in a house like this. The bathroom has a spa-like feel and creates a lovely retreat. The luxurious, contemporary kitchen would make any chef want to stay and cook for a while! The space seamlessly combines the cutting edge design works without contradiction to the rustic look of the rest of the house. The coup d'etat is the soaring thirty foot ceiling of the great room, a fitting tribute to the massive stone fireplace built by Browns Masonry.
To add to its credits, the Roxbury House had been awarded the environmental excellence award as well as earning a five plus star energy rating, gold level certification.
Credits for this project:
Linda Lacroix, Partner, Aspen Construction Services, Corp. – www.aspenvermont.com
LaFever Excavation out of Bovina, NY – www.lafever.com
Id3 Designs of Ludlow, VT – www.id3designs.com
Creations in Stone, of Keene, NH – www.creationsinstoneofkeene.com
Depot 62 of Manchester, VT – www.depot62.us
Wood Idea out of Mercer, ME- www.pineflooringdirect.com
Artwork by Chris Polson of Lincolnville, ME – www.midcoast.com
Browns Masonry from Perkinsville, VT – www.brownmasons.com
Hvac design by Lloyd Hamilton of Verdae, Inc., Rhinebeck, NY – www.verdaellc.com
Kudos for the Roxbury House Photoshoot
"WOWY KAZOWY!…Carolyn you came to our rescue, on short notice, and with much to be done, and produced perfect photographs for our magazine article, and beyond for use in all our media.  Thank you for being a true professional in every way that counts, and more.  Pleas also tell John that he is without question, the most entertaining and talented "helper" on the planet! We look forward to many more shooting events…."
– Linda Lacroix, Partner, Aspen Construction Services, Corp. www.aspenvermont.com
"Thumbs up…..beautiful work !!!"
– Tija Cross
""love, love, love the open aired shot with the fireplace!""
– Tonya West, originally posted on facebook
"The angle is perfect. I want to walk in and take a nice warm bath."
– Mary Claire Carroll, photographer, originally posted on facebook