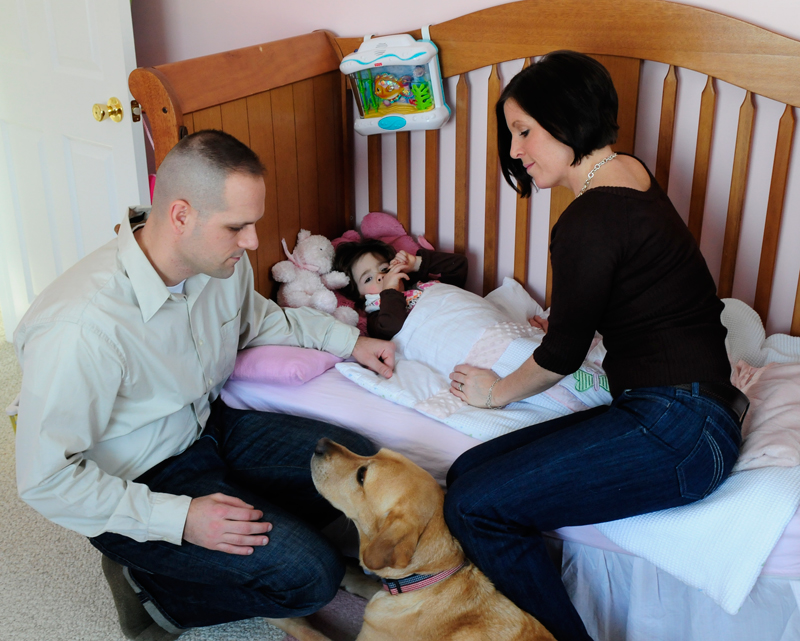 Thank you deeply for your commitment to the National Guard. Photo of Lindsay, Kevin, Payton, and Hunter (dog).
The men and women who serve our country these days are in grave danger so much of the time, that I want to thank each and every one of you who is or has been in the service.
One of the hardest things in life is to be separated from those you love, but for a military family, this is just something that they have to cope with on a daily basis. One of those families is the Jarvis Family, but there is something unique about this family. Lindsay Jarvis has created a business that helps the troops when they come back home and assists with the reintegration back into their former lives. I have been lucky enough for Lindsay to share her story with me and now with you.
---
My Story

by Lindsay Jarvis, Family Assistance Specialist
Contractor: Williams-Gonzales Joint Venture VII
VNG Family Readiness Program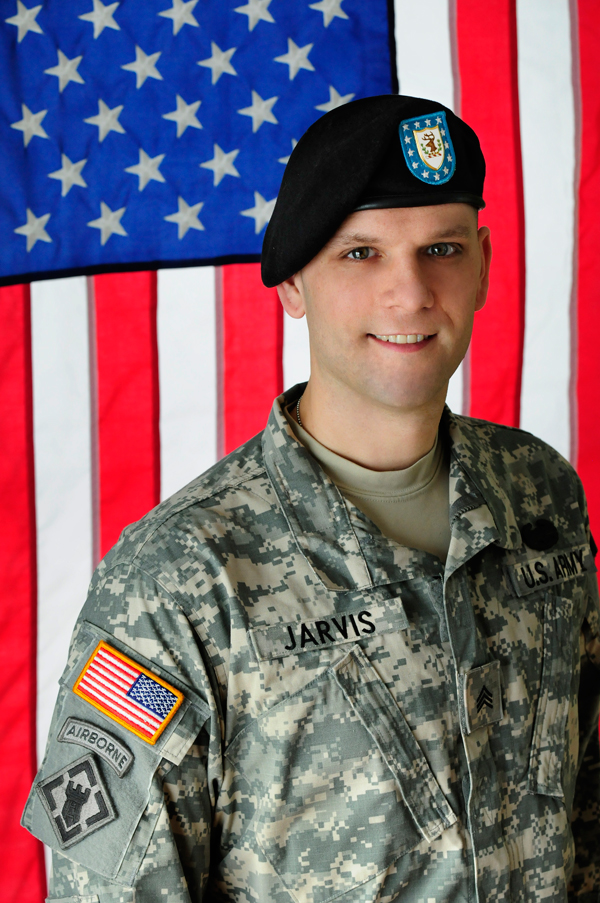 I am a military wife to a Vermont National Guardsman. Kevin deployed in July of 2006 for 15 months to Baghdad, Iraq with the 131st Engineers; at the time military life, deployments, etc. was all pretty foreign to me. I didn't know many of the soldiers Kevin was deployed with, so relating to another Army wife, when in the National Guard families are spread all over the state, seemed a bit overwhelming. To top it off, I was just over three months pregnant with our first child. I felt many emotions during this time, and the number one was fear of the unknown. What kind of communication would we have? Would Kevin be safe? Will I be able to care for our child and maintain our home and bills?
Over the course of those 15 months, I met some pretty amazing people. I became active in Kevin's unit Family Readiness Group or otherwise known as the FRG. This group consisted of several spouses, girlfriends and family members of the other soldier's Kevin was deployed with. It was amazing to walk into a meeting and feel connected, supported and understood without having to share the emotions you were feeling; everyone already "got it." We built a camaraderie with each other, the same way soldiers do when they are deployed together. We were a "Band of Sisters" who shared many stories of our soldiers, late night phone calls filled with tears if we hadn't heard from our loved ones, and hopes and prayers of our soldiers returning home safely to us.
Kevin was able to view our daughter's birth via webcam. The birthing center at the hospital set up the entire floor with wireless internet connection to ensure this could happen for us. It is an experience we will never forget. Kevin may not have been with me physically, but he was there in spirit that day. He was able to hear "it's a girl!!" as well as her first cries and watch her first bath. The support we received that day and for months to come, from our army friends, hospital staff, our community and complete strangers was beyond gratifying. Kevin was able to come home to meet Payton for his two week leave when she was three months old. The time passed quickly, and before I knew it he was on a plane back to Iraq. Surreal does not even begin to describe those days we had together.
Kevin's unit returned home in October of 2007. Payton was 9 months old and we were both two different people than the day he first left. I was now a mom and he was now a dad and still in the mindset of being a soldier; I was still in the mindset of being a "single parent." It was so nice to have him home and have the worry lifted from my shoulders. He was safe, but not the same. This was the beginning of our "reintegration" as a family. It was a long road, and took many months to get to our "new normal." He had to learn my routine with Payton and I had to help him feel involved. He, as many guardsmen do, had a hard time getting back into "civilian life." For a year they lived day to day not knowing what danger they would face, and consistently in survival mode. Protecting their battle buddy, carrying a weapon just to take a shower, use the bathroom or get some chow, to now working back at their typical "9-5" desk job or maybe coming home to a business that had to close because no one was able to keep it afloat. They weren't with their "Band of Brothers" anymore; they were back home, spread out throughout the state with a sense of complete disconnect. Kevin, as many in his unit, struggled with this; he wasn't ready to go back to work, he missed the brotherhood, and he took awhile to decompress from combat. With time and help from family, friends, and the use of several of the military resources available to the National Guard, Kevin was able to be Kevin again; granted, he was different, but able to move forward from his experience and get back into living his life, as an amazing father and husband, a hard worker and exceptional soldier.
Over four years later I look back on this experience in our life, and know it challenged our marriage, it challenged our wellbeing, but in the long run it affected us in a positive way. We are stronger for it; I am stronger as a person for it. This experience has opened many doors for me. I am currently employed as a contractor for the Vermont National Guard as a Family Assistance Center Specialist, working for the Family Readiness Program. As others on this program, I have the opportunity to work with many families during all phases of deployment; preparing them before their soldier leaves, empowering them while they are at war, and assisting with the reintegration process upon their return home. We provide them with the support they need to get through the year, month and sometimes day to day. The resources for National Guard soldiers and families have quadrupled in the years since Kevin has returned home. It is humbling to see that many organizations are recognizing the need for these programs to be available to soldiers and their families. When a spouse comes into my office, to share a story about their soldier, an experience their child had at school or a bad day when nothing seems right, I feel deeply connected to their experience; I am thankful they want to allow me into their lives at a time when they feel the most vulnerable. My hope after a year long deployment is that I have made a difference in at least one military family's life, as they have all made a difference in mine. I am empowered by their strength and feel a sense of belonging to something greater than myself.
I know when the time comes again for Kevin to deploy, we can get through it as we have in the past. Kevin intends to fulfill a 20 year commitment to the National Guard, which I know means more missed anniversaries, birthdays, dance recitals, etc. I can't expect it will get any easier, but I understand the sacrifice. I am proud of my husband; I am proud to be a military family.
Educate yourself & find out more.

Visit the Foundations Magazine website to download PDFs of the magazine.