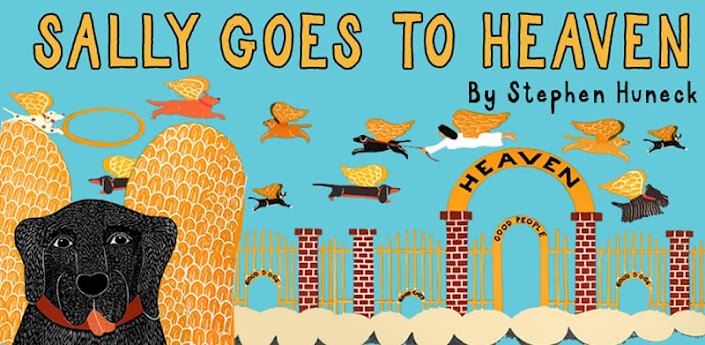 "Sally Goes to Heaven" was the last Sally story Stephen wrote before he took his life. The story, though sad, is ultimately optimistic; Sally is in a place of eternal joy and tolerance. Especially moving to me, personally, is Sally's wish that her family get another dog to take care of them, so they won't feel so sad.
About "Sally Goes to Heaven"
In Sally's world, meatballs hang from trees, comfy couches stretch as far as the eye can see and tummy rubs abound. Readers will find comfort in Sally's description of Heaven.
Stephen Huneck's Sally Goes to Heaven is an uplifting and reassuring look at what happens to family pets once they leave us. Described in charming detail, by Sally, the fun loving black lab, with captivating illustrations from original woodcut prints, this wonderful book is a non-threatening way to help children understand the natural cycle of life. Beautifully illustrated, this classic tale captures the imagination of readers and dog lovers of all ages.
Sally Goes to Heaven is avaliable on Amazon.com. You can also get it on iTunes/iBooks and Google Play.
About the Author/Illustrator
Steven Huneck (1948-2010) was an internationally acclaimed painter, sculptor, and printer, and the creator of the Dog Chapel in St. Johnsbury, Vermont where he lived. His hand-carved furniture, sculpture, and woodcut prints are included in the White House Collection of the Smithsonian Institution, the collections of the American Kennel Club Library and the Museum of Folk Art, and many other prestigious museum and private collections.
Published for the first time digitally, Sally Goes to Heaven was written in the winter of 2009, just a few months before Huneck's own untimely death. His inimitable style, humor and infectious love of dogs lives on in the irresistible Sally.
More from Steven Huneck
News from the Stephen Huneck Gallery: Love is the Golden Rule
Happy Valentine's Day from Stephen Huneck Gallery