Photographer, Doug Keister, exhibits John Johnson photographs from glass negatives, found at a garage sale in Lincoln, Nebraska, in 1965.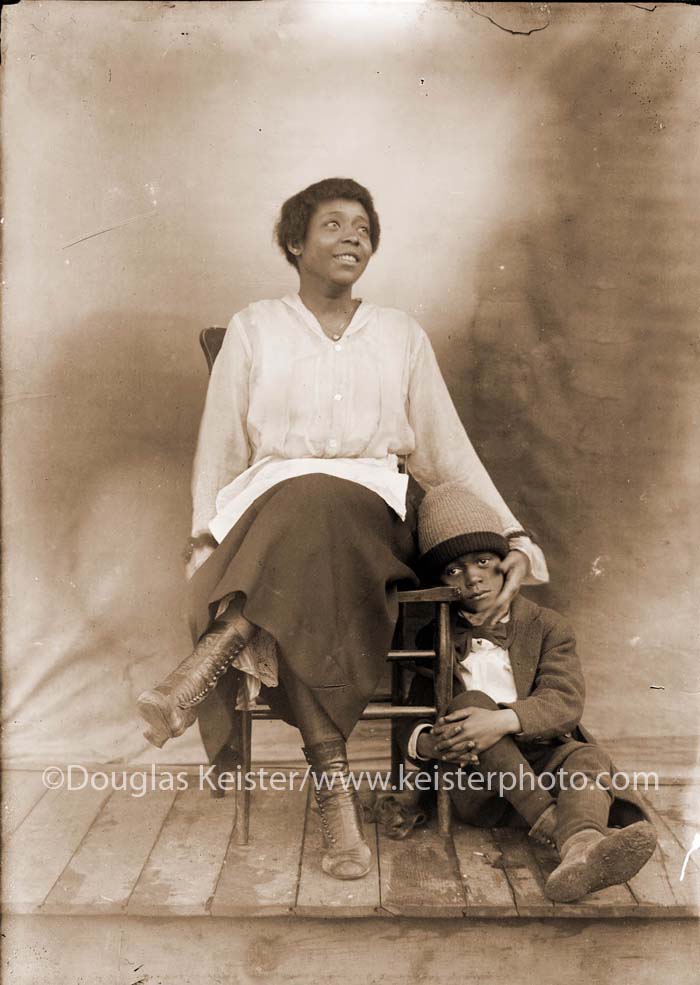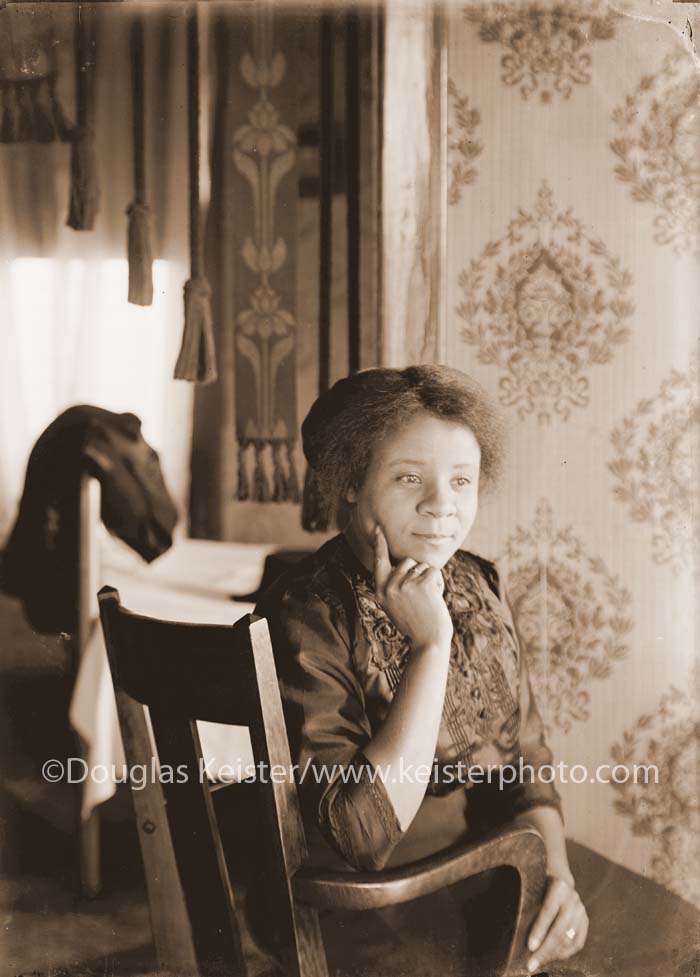 One of the most important events in my early life as a photographer occurred in Lincoln, Nebraska, in 1965, when I chanced upon a clutch of over 280 5″x7″ glass plate negatives. Glass plate negatives? Before digital images and even before film, images were often captured on plates of glass coated with photographic emulsion.Stumbled upon at a garage sale, the negatives contained a number of city views of Lincoln including some circa 1915 construction photos. I made a few selected prints of the city scenes and sold them to people in Lincoln. Thus, my first sales as a photographer were from someone else's negatives. Further inspection of the glass plates revealed that most of the photographs were of people and most of the people were African American.
As a kid fresh out of high school, somehow I knew the images were important but I didn't have the resources for further exploration. I packed the negatives away in shoeboxes and stored them in my parents' basement. A couple years later I was off to California to pursue my dream of becoming a professional photographer. Over the next three decades the weighty shoeboxes traveled with me wherever I moved.
In the spring of 1999 my mother was reading an article in the Lincoln newspaper about a researcher who found 36 glass negatives in a closet in Lincoln. They were superbly crafted images of Lincoln's African American community. The photographer was identified as Earl McWilliams, a light-skinned African American with red hair, who was employed at a photo studio in Lincoln. My mother clipped the article and sent it to me with a note saying, "Don't you have some old glass negatives?" Indeed I did. 280 of them. And by the same photographer.
The re-discovery of my negatives coupled with the other 36 negatives set off a firestorm of activity. Multi-page illustrated articles ran in the local newspaper. NEWSWEEK magazine picked up on the story. The Governor of Nebraska declared March 22nd "Earl McWilliams Day." My shoe boxes of negatives were deemed a state treasure.
After all the press died down, Lincoln historian Edward Zimmer, who was involved with trying to identify some of the locations, dates, and people in the photographs, was interviewing a couple of older women who were living in Lincoln at the time the photographs were taken.
The women distinctly remembered another African American man named Johnny Johnson traveling around Lincoln in a horse and buggy and a camera taking pictures of the community. Alas, the problem of pinning Johnson as the sole photographer is that he appears in a number of the photographs. Did Johnson have help or work as part of a team?
What is known for sure is that the last verifiable date of the photographs (mid-1920's) coincides with the date Earl McWilliams left Lincoln for Colorado and hence to San Francisco, where he died in 1960. What is also known is that Earl McWilliams was related to acclaimed Harlem Renaissance photographer James Van Der Zee. Is it just a coincidence that both men were photographers?
Many of the photographs also contain white people. Did Earl McWilliams' demeanor, standing in the community, or light skin allow him to move back and forth between the black and white communities? Did Johnson man the camera while Earl posed the subjects? McWilliams' mother once told an interviewer, "Earl, he knew how to make people smile."
After close to five decades I'm still stumped by Earl McWilliams. No photographs of him have emerged. He was married at least four times. Are there any surviving children? I interviewed his niece in Riverside, Calif. She was the one who put me onto the Van Der Zee connection. She kept telling me that Earl was "different" without telling me what "different" meant. I have my suspicions, which keep me plugging away thinking that somewhere, sometime I'll stumble onto more information.
More information continues to surface about the subjects in my collection. During an exhibition of 31 selected images at Chico State University in Chico Calif. in February 2012, I learned that famed Harlem Renaissance artist Aaron Douglas lived in Lincoln when many of the images were taken and in fact lived next door to one of photographer John Johnson's frequent subjects, a young woman named Frances Hill.
Every time I pull out the boxes of glass negatives they make me smile, not just for their historical importance, but from a very personal one: They were a springboard that helped launch my career as a professional photographer. And now (Spring 2012) I've heard from the new Smithsonian Museum of African American History and Culture, that they want 60 of the images for their permanent collection. I guess it was a good idea to hang on to those dusty old negatives.
See the full Collection in Douglas Keister's "Glass Negatives" Ligtbox.
About Douglas Keister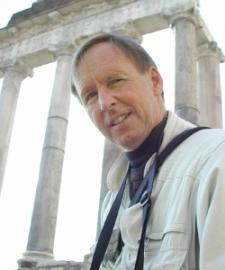 Photographer-writer Douglas Keister, has authored and co-authored thirty-nine critically acclaimed books. He also writes and illustrates magazine articles and contributes photographs and essays to dozens of magazines, newspapers, books, calendars, posters and greeting cards worldwide. His twenty-five books on architecture include five books on Victorian homes (Daughter's of Painted Ladies, Painted Ladies Revisited, America's Painted Ladies, Victorian Glory and 500 Victorians); twelve books on bungalow homes (The Bungalow, Inside the Bungalow, Outside the Bungalow, 500 Bungalows and eight small format books on bungalow details), a book on 1920's whimsical homes (Storybook Style) a book about cemetery art and architecture (Going Out in Style), a book on Spanish architecture, (Red Tile Style), four books on cottage (Classic Cottages, Inside Classic Cottages, Cottages and 500 Cottages), a book on cemetery architecture (Going Out in Style), and a book on Courtyards. Keister photographed and wrote an award winning children's book (Fernando's Gift), has two monographs of his personal work (Black Rock and Driftwood Whimsy), and four books on classic recreational vehicles, Ready to Roll, Silver Palaces, Mobile Mansions and Teardrops and Tiny Trailers. His wealth of books on architecture has earned him the title, "America's most noted photographer of historic architecture". His book on cemetery symbolism, Stories in the Stone: A Field Guide to Cemetery Symbolism and Iconography, has garnered a number of glowing reviews.
For more about Doug, visit his website at www.douglaskeister.com or email him at Doug@keisterphoto.com