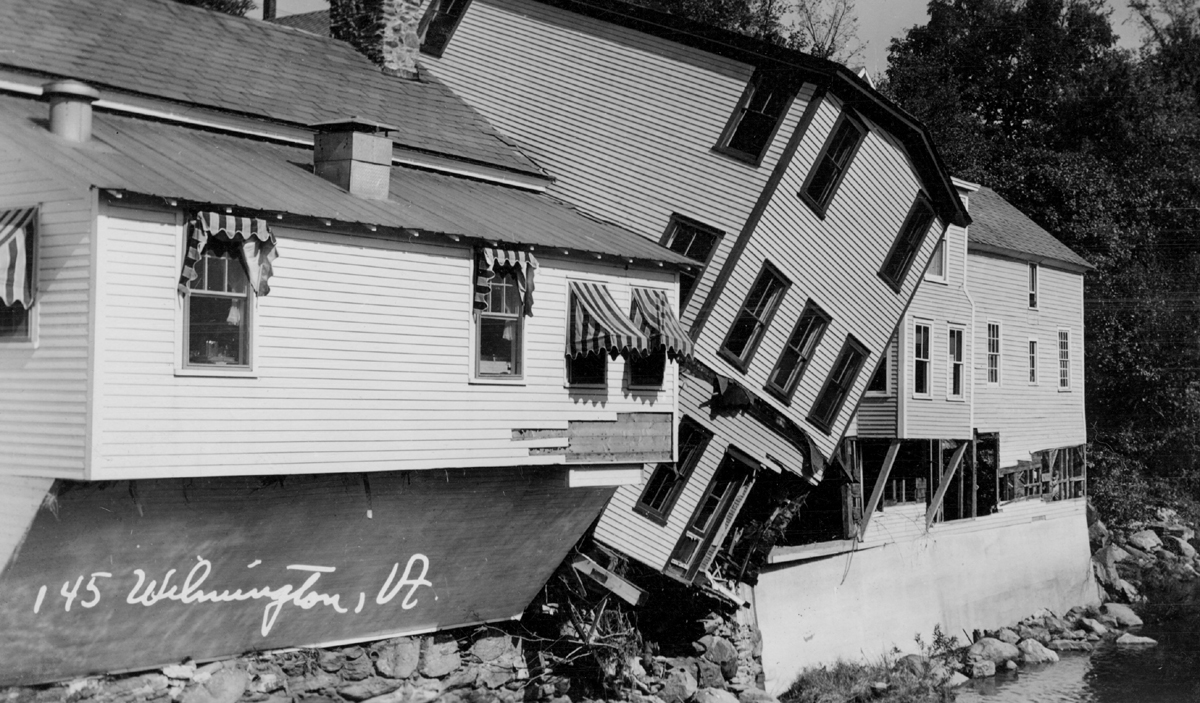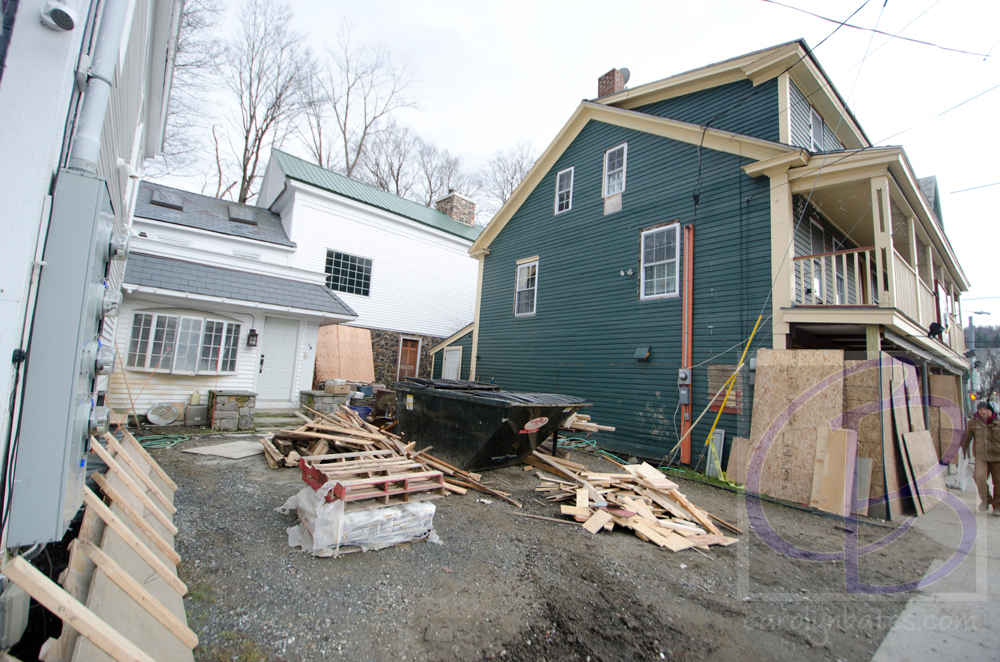 Historic Image of Wilmington (left); Image by Carolyn Bates 2011 (right)
The town was founded around 1751 and was located at the top of Lisle Hill. The fathers of the town later chose to locate down the hill by the river, casually referred to as "Mill Hollow". There seems to be a big discrepancy whether the town was chartered in 1751 because a subsequent charter was granted in 1764 to other proprietors under the name Draper. But the town was never organized under the charter. The Wilmington charter prevailed with settlers voting not to settle under the Draper Charter. The society is very fortunate to have just printed a book about the old town and how it was formed. The book was printed by the generosity of the 1836 Country Store and Norton House owners.
---
Irene's Eye – in remembrance of 28 August 2011
By Julie Lineberger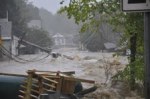 Irene set her sights on our small Vermont village of Wilmington, quite an unexpected course. Her eye, however, allowed some things to be seen more clearly, and other issues to be blurred. For our family, as well as our community, it was a multilevel watershed. It brought to focus who we are and how, beneath daily trappings, we work together from the same foundation.
It rained all night the 27th. Our friend MaryAnn called early Sunday morning to see if we were still up for brunch. Intrepid as always, my husband, younger daughter and I set out for Chimney Hill around 9:00am. Passing Manyu's Boutique where Jadria worked when not at Bates College, we called Manyu to say we would come help move everything out of the basement after brunch . . . she should meet us there at 11:00 as there was sure to be flooding.
Read Julie's Complete blog, click here.
---
Check out more images of Wilmington
---
How You Can Help


Deerfield River Valley Human Web
These funds will be used to help affected families along the Deerfield River path. People are able to apply for grants from this fund to help displaced renters, people who have lost work and jobs because of the flooding, lost furniture, etc in the towns of Wardsboro, Dover, Wilmington, Halifax, Whitingham, Searsburg, Marlboro, Readsboro.
Checks made out to "Deerfield River Valley Human Web" can be sent to the fund at 14 Castle Hill Road, Wilmington, VT 05363.
Find out how the funds are being used by visiting the official blog, http://drvhumanweb.org/blog/
---
Tell your story!
We are collecting stories about Tropical Storm Irene to add to our Flood Folder!
You can mail your story to: The Historical Society of Wilmington, PO Box 1751, Wilmington, VT 05363
Or email them to John Lazelle.
---
Update from Susie Haughwout, the Wilmington Town Clerk
The water was over 6' deep in the middle of town at the corner of the town hall building. I am the Town Clerk for Wilmington and the water was nearly 4 ½ feet deep throughout my office, the police department and about 6' deep in the fire department. Three buildings containing business were totally swept away. One residence was totally destroyed, and approximately 13 more single family homes and trailers were severely damaged. Over 20 apartment units were affected. The highest rainfall count is heard was 12.7".

Over 45 business were physically affected including those that were totally destroyed, and as many as 40 more businesses were closed for extended periods of time due to having to close roads in order to clear debris, lack of power, etc. The losses to businesses including damage to buildings, equipment, inventory and business loss is over $8,000,000. Although many businesses have reopened partially or fully, it remains unclear how many will not be able to reopen. I've attached a business report from early December.
For more information, visit www.wilmingtonvermont.us

---
Historical Society of Wilmington
wilmingtonhistoricalsociety.com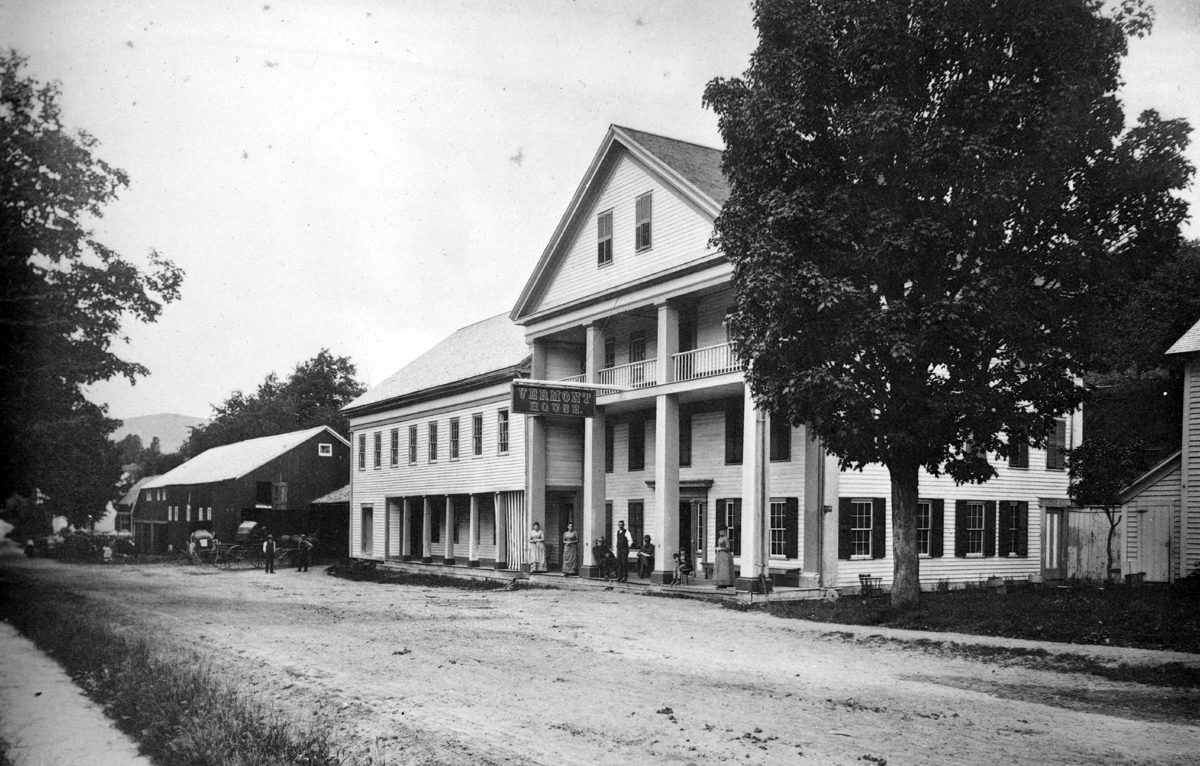 The Historical Society of Wilmington, a duly organized nonprofit entity, is dedicated to collecting, preserving, teaching and displaying the history of Wilmington. This is realized with the efforts of all those who volunteer with the society as well as those who donate.
Old Home Week has come and gone for another ten years. The society had a wonderful turnout during OHW and it was a pleasure to have so many visitors who stopped by to look over the displays, go on a walking tour or attend our pancake breakfast fundraiser which turned out to be a great hit. Through the generosity of Al & Sue Wurzberger we were able to reproduce "An Historical Address" from Old Home Week 1950 by Guy C. Hawkins to use as a fundraising tool which came out in time for Old Home Week. If you did not get one and would like a copy please contact a society member.
Read More about the Historical Society of Wilmington on their website.
---
Quick Links
WILMINGTON, VERMONT: Recovering from Irene 1 year later.
From The Devastation of Irene Emerges Hope for Rebuilding Vermont
Bringing Wilmington Vermont Back to Life
The Past & Present: Wilmington, Vermont
Continuing to Look at the Devistation in Vermont
Helping Families in Wilmington, VT
Deerfield River Valley Human Web – drvhumanweb.org
Julie Lineberger's LifeSync Blog – lifesyncing.wordpress.com

Historical Society of Wilmington – wilmingtonhistoricalsociety.com
LineSync Architecture – linesync.com
Ann Coleman, Artist – artistanncoleman.com
Wilmington Fund – http://thewilmingtonfundvt.org/
Friends of the Valley Bowling Alley Rebuild on Facebook.