**UPDATE**
New Exhibit! ABIGAIL ANNE NEWBOLD: CRAFTING INDEPENDENCE (Click here to learn more.)
---
This exhibit is definitely worth the trip! Better yet, make it part of a vaction or even just a long weekend. Stay overnight and see the Frank Lloyd Wright's Zimmerman's house (part of the Currier Museum), eat at Cotton's Restaurant down in the mill town, or stay at the Ash St. Inn around the corner from the museum, where you can have your own private fireplace in your bedroom.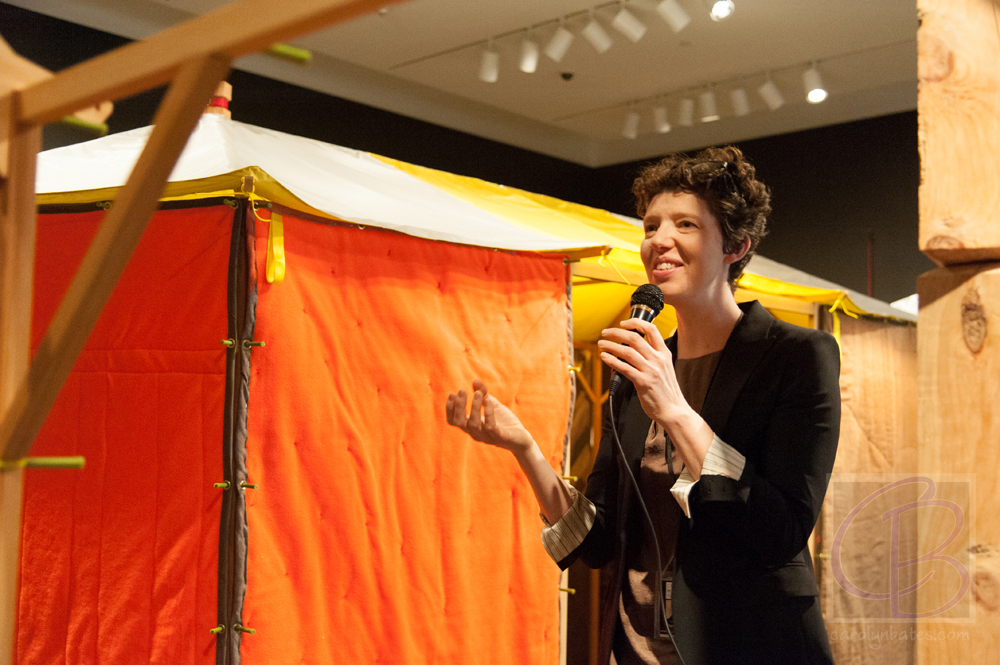 Check out more images, by clicking here.
My Gallery Notes:
Abby has made many of the items you see: like the backpack, and/or has restored old items, like tools, by sharpening and cleaning, and making new handles. She made or found these cool pegs to hold everything together. This way you can take off her hand made quilts used as walls, take down the light weight frame, and pack it all up and put it into the covered wagon, and bike it to your next place to live.
This is her idea of alternative living including all the things you need to do it.
Including a delicer, the horizontal bag w crank and with sleeve under it for your head? and a magnifying glass– and a seed spreader bag she made with a spreader attached to its bottom.
More about the Exhibit:
The Currier Museum of Art presents:
Abigail Anne Newbold: Crafting Settlement
March 30 – July 14, 2013
Crafting Settlement turns a museum gallery into a diorama of a fictional homestead on the fringes of modern society. Exquisitely custom-crafted objects, including modular dwelling structures inspired by the 19th-century farm architecture of New England, combine traditional craft techniques and modern materials to create a personalized brand of domesticity and self-sufficient living. This installation reclaims the value of quality construction and aesthetic integrity and comments on a history of utopian projects in search of alternatives to mainstream culture.
FIRST THURSDAY LIVE! with the artist Abigail Anne Newbold
Thursday, June 6, 5:30 – 7:30
Explore Crafting Settlement and bring your questions about artistic process and motivations to the artist, who will be available for questions throughout the evening.
First Thursday programs are free for everyone throughout the summer.
---
Take a look around the Exhibit!
(Click on the thumbnail to enlarge photo.)
---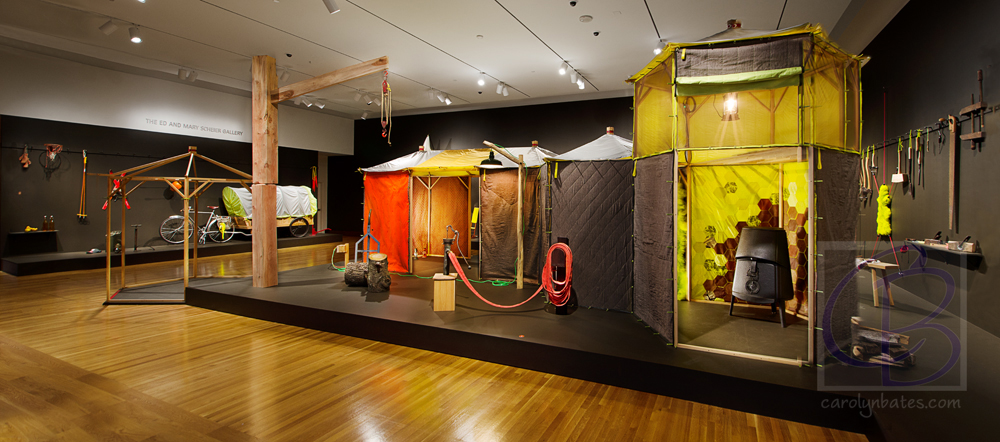 Contemporary Connections
Abigail Anne Newbold: Crafting Settlement
Organized by the Currier Museum of Art in collaboration with the artist

Abigail Anne Newbold melds a mastery of traditional craft techniques with a modern design aesthetic to create thought-provoking installations centered on themes of domesticity, self-sufficiency, and artisanal production. The Currier will host Newbold's first solo museum exhibition, Crafting Settlement, which will transform the museum's Scheier Gallery into a showroom of unique and finely made products for living on the fringes of organized society. Newbold's survival line of handmade and modified found objects will feature modular timber-frame dwelling structures, textile garments, elegantly crafted tools of wood and metal, and a covered wagon pulled by a bicycle. Evocative of high-end retail display and traditional museum period room tableaus, Newbold's installation will complicate the romantic vision of a self-sufficient lifestyle by including impractical and at times humorously absurd objects, such as a fashionable cropped fur jacket and a hand pump-powered fire hose. Synthetic materials will be prominent among the customized and handcrafted objects on display, overturning the notion of craft production as independent from industrialized society. Newbold's installation stages one visionary possibility for living within our complex socioeconomic environment and invites visitors to imagine their own.
Read more on the Museum's website.

Currier Museum of Art
150 Ash Street
Manchester, NH 03104
tel. 603.669.6144
web: CURRIER.ORG
---
New Exhibit! ABIGAIL ANNE NEWBOLD: CRAFTING INDEPENDENCE

Houston Center for Contemporary Craft
October 4, 2013 — January 19, 2014
In the Front Gallery
Opening Reception
Friday, October 4, 5:30 – 8:00 PM
5:30 PM – Artist Talk by Abigail Anne Newbold (Crafting Independence)
5:45 PM – Curators' Talk by Susie J. Silbert and Anna Walker (SPRAWL)
6:15 PM – Artist Talk by Tybre Newcomer (The Maker's Archive)
6:30 – 7:30 PM – Open Studios by Current Resident Artists
The opening will also feature two other new exhibitions: SPRAWL, in the Main Gallery, and The Maker's Archive, in the Artist Hall.
Transforming Houston Center for Contemporary Craft's Front Gallery into a space resembling an encampment in a potentially post-apocalyptic landscape, Abigail Anne Newbold explores the role of the contemporary pioneer living on the outskirts of a cityscape. Having primarily shown her work in the Northeast, with its early settlement culture, Newbold turned to Houston to showcase her latest example of contemporary pioneering. In the last century, the city has taken ownership over its geography and resources, becoming what could be considered a modern example of the "final frontier." By featuring her installation in Houston, Newbold sparks a dialogue around the city's identity.
Newbold's installation, mirroring a commercial showroom, promotes a reemerging Do-It-Yourself culture couched within a landscape of mass-production. Filled with a meticulous assemblage of handmade products and repurposed objects, Crafting Independence illustrates how to survive in an evolving industrial socio-economic environment. In the spirit of DIY, Newbold's line of modified objects privilege a lifestyle designed by and for the individual–the pioneer of the modern frontier. By using repurposed materials, Newbold encourages her audience to envision their own makeshift domestic space. Her environment bears a curious familiarity with many common household wares, making her ideas easily applicable to almost any lifestyle.
Read more on the Houston Center for Contemporary Craft website