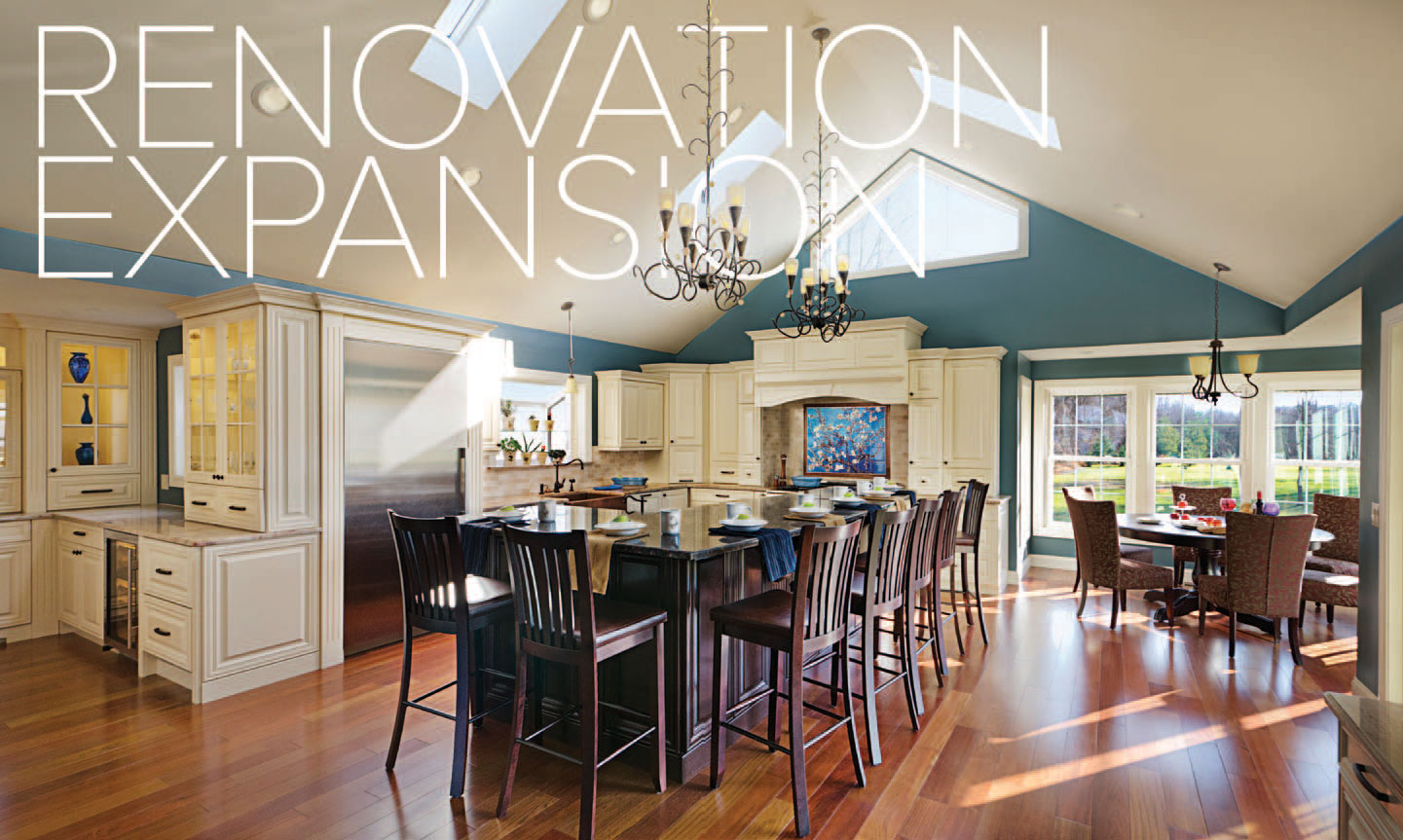 Canadian Homes & Cottages Magazine
Home renovations for this busy family of six were designed with storage in mind
by Kristine Nyhout • Photos by Carolyn Bates
A home built in the mid 19th century may have been quaint at the time, but for today's families, it would be lacking. This was the case for the Cichetti family. With four children and an equal number of pets, the home was simply not meeting their needs. Cramped, dark and boxy, most people would assume a move would make the most sense. But not, of course, if your home is situated on rolling acres that just happen to face the beauty of the St. Lawrence. And so a renovation began.
Interior designer, Anne-Marie Brunet of Cornwall, Ontario, had worked with Neil and Joanne Cichetti on their new medical clinic project, so they called on her expertise once again. "We began in November of 2010 and wrapped up a year later," Brunet explains. "The entire project was an exciting challenge."
The entire main floor was gutted and a large addition for a new kitchen unfolded. What had formerly been an enclosed porch became part of the new floor plan and a new front entrance was constructed. Throughout the project, Brunet kept the goal in mind of maintaining a traditional feel while incorporating modern conveniences and methods to help keep the family organized.
Nowhere are those goals more evident than in the newly created 600-square-foot kitchen. Homeowner, Joanne wanted a bright, open space so skylights, a huge polygon window tucked into the 16-foot high cathedral peak, and a garden window over the sink, allow light to spill in from every direction. To keep the traditional feel, the cabinets have raised wood panel doors, but to perfectly blend old and new, modern hardware was used. The cabinet colours are a blend of cream and dark wine and the granite is an interesting mix of Shiva Kashi throughout the main countertop and on the two-tier raised island, Blue Cinnamon. Two copper sinks with oil rubbed bronze faucets add to the earthy feel of the room, as does the warmth of the Brazilian Cherrywood floors. Custom-made chandeliers have a finish designed to coordinate with the copper and bronze metals throughout the house.
Read the complete story at the homesandcottages.com
---
About Sheridan Interiors
Sheridan Interiors is a dynamic, full service interior design and decorating firm located in Cornwall, Ont., serving both the residential and commercial market for South Eastern Ontario. Our client base extends from Cornwall through to Toronto and from Ottawa through to New York State. Established in 1997, Sheridan Interiors' team of talented craftspeople and artists continue to provide high quality products and deliver unequalled customer service. Combined with an innate sense of style and a strong sensitivity to the client's needs and budget, Sheridan Interiors is the reasonably priced professional alternative!
Our commitment to today's standards of excellence mandates that we design with the environment in mind. To that end our priority is to partner with suppliers and manufacturers who share our view that the planets natural resources are finite and should be used with discretion, recycled and reused whenever possible.
Anne-Marie Brunet, CKD, CBD
Certified Interior Design Professional
Certified Kitchen and Bathroom Designer
Phone: 613-936-7237 • Toll Free 1-866-532-4248
www.sheridaninteriors.ca