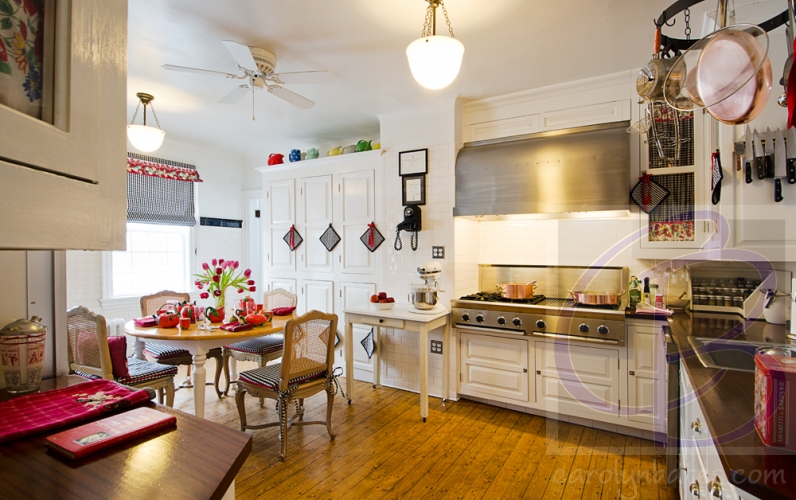 See more images by clicking here
Federal Farmhouse Restored in Colonial Revival Style
In the first quarter of the 20th century, this Federal-era house was stunningly renovated with Colonial Revival sentiment. Today it's still a beauty.
BY REGINA COLE | PHOTOGRAPHS BY CAROLYN BATES | Old-House Interiors Magzine

They'd purchased not only a house and a farm, but also an important piece of Vermont history—though that wasn't why Andrea Forrest Brock and her husband, Randy, bought Rockledge Farm in 1986. "Randy was commuting [from Vermont] to Boston then, and we frequently got snowed in," Andrea says. "We had to move to a road that was regularly plowed—and we wanted an old house. Of course, in Vermont we don't have that many new houses!"
The centerpiece of the farm is the 1799 Jennison house. Perched on a low knoll in the Green Mountains town of Swanton, the east-facing house was originally a two story, five-by-four bay Federal wood-frame dwelling with a one-story kitchen ell. Between 1918 and 1922, Clark Saxe Jennison transformed the farmhouse into the Colonial Revival manor it is today. The clapboarded main block has symmetrical wings that date to his renovation. A partially enclosed, shed-roof porch at the rear spans the width of the main block and north wing.
Read the compelte article on the Old-House Interiors website
---
Take a Look Inside This Historic Home
---
Want to see more?
Vermont Magazine: Restoring Rockledge
---
What People Are Saying…
Sheridan Interiors, Cornwall wrote: "What a beautiful home!….love the colours, and that table scape is scrumptious!"