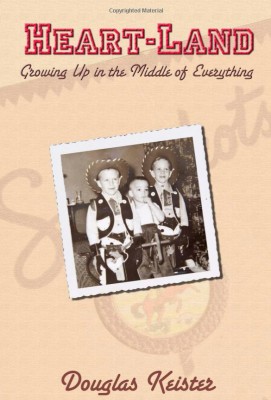 I just recieved a new email from DougKeister about his latest book and just had to share it!
"This week, my 41st book, HEART-LAND: GROWING UP IN THE MIDDLE OF EVERYTHING went live. Heart-Land is about growing up in Nebraska in the 1950s, but it really appeals to anyone who grew up in a simpler time. Heart-Land is both funny and heartwarming. If you don't laugh out loud at some of the stories, you are clinically dead.
Now I have a very big favor to ask. Despite all the hubbub about the changing face of publishing, books still sell best by word-of-mouth. If you could be so kind as to get the book and write a review (assuming you like it), it would be very much appreciated.
I'm going to really try to go all-out with HEART-LAND. I've priced it attractively and I believe it really has mass appeal, but I need some reviews to give it an early boost.
If you live in the CHICO, CA area, you can get it AUTOGRAPHED at Lyon Books in about 10 days. There will also be a special event at Lyon on November 14th. Please support your local bookstore!"
About the book:
HEART-LAND: GROWING UP IN THE MIDDLE OF EVERYTHING After authoring and co-authoring over three dozen books, critically acclaimed writer-photographer Douglas Keister looks back at his childhood years growing up in Lincoln, Nebraska in the 1950s. Keister was the middle child growing up in the middle of the century in the middle of the country. HEART-LAND: GROWING UP IN THE MIDDLE OF EVERYTHING, is a magical blend of humor, insightfulness and heartfelt memories. The stories range from laugh-out-loud funny to rueful recognition of the pains of growing up. All of them are full of heart, and never fail to entertain. Among the stories are tales of childhood games, the first television programs, weather, the Birds and the Bees talk, insects, a trip to California, adventures as a Cub Scout and much more. If you grew up in the 1950's and 60's you'll love this book.
About Doug:
Photographer-writer Douglas Keister, has authored and co-authored forty critically acclaimed books. He also writes and illustrates magazine articles and contributes photographs and essays to dozens of magazines, newspapers, books, calendars, posters and greeting cards worldwide. His twenty-five books on architecture include five books on Victorian homes twelve books on bungalow homes, a book on 1920's whimsical homes (Storybook Style) a book about cemetery art and architecture (Going Out in Style), a book on Spanish architecture, (Red Tile Style), four books on cottages and a book on Courtyards. Keister photographed and wrote two children's books has two monographs of his personal work (Black Rock and Driftwood Whimsy), and four books on classic recreational vehicles. His wealth of books on architecture has earned him the title, "America's most noted photographer of historic architecture". His book on cemetery symbolism, Stories in the Stone: A Field Guide to Cemetery Symbolism and Iconography, has garnered a number of glowing reviews. A book featuring his collection of glass negatives. Lincoln in Black and White 1910-1925 led to part of his collection being acquired by the Smithsonian. His thirty-eighth book, Forever LA which features cemeteries in the Los Angeles Area was published in May 2010. His thirty-ninth book, Stories in Stone New York: A Field Guide to New York City Cemeteries and Their Residents was released in October 2011 by Gibbs Smith Publisher. He has also written two novels, Desiree (2010) and Autumn in Summer (2012). His latest cemetery book is Stories in Stone Paris which is slated for publication in September 2013. Heart-Land is his 41st book. In October 2010 his cemetery books and photography were featured in a segment of CBS Sunday Morning. Correspondent Rita Braver called him "America's Chief Tombstone Tourist". SUNSET magazine said, "Keister has done for cemetery exploration what Audubon did for birding."
Read some of the previous posts about Doug.
Congratulations to Douglas Keister!
Smithsonian to add John Johnson Photographs
Fan Fare: Photographer & Author Doug Keister