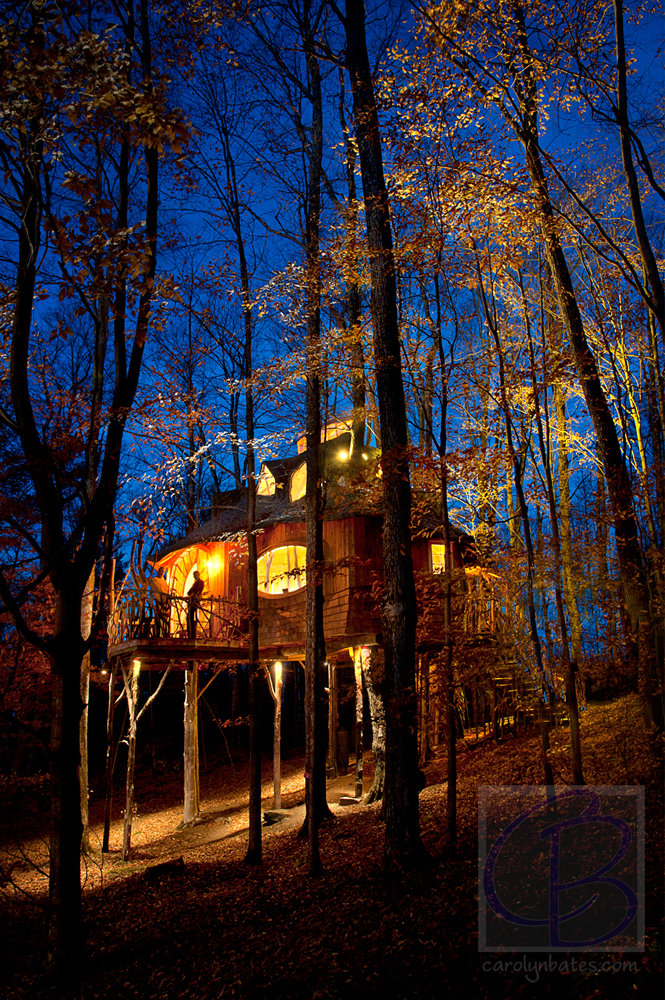 Above all else, this tree house gives everyone who visits a home away from home.
Vermont Magazine • September /October 2013
Story by Leon Thompson • Photos by Carolyn Bates
The first-timers lose their breath at first sight. "And that breath is just the beginning," says Russ Bennett, as he steps inside the 20-foot-high tree house he designed and built on his Moretown property five years ago, on South Hill Road. "Hmmm. It smells a little musty in here."
Russ—an active designer, builder, sculptor, social activist, community planner, artist. and musician—hasn't been home for a week. It is late June 2013, and Vermont is about to record its two consecutive wettest May and Junes on record, with nearly 20 total inches of rain. Russ missed much of that, while working on the West Coast.
"The squirrels like to live here while I'm gone," he says, as he takes a wooden seat at a marvelous table made from a fallen British elm tree that he obtained from a friend. "They hang out. Nibble cheese. Sip wine. We like to do a lot of that here—nibble cheese and sip wine."
You might know someone with a tree house, on some level (and, on some level, that someone probably has a purpose for that tree house). Children use them for various reasons: sleepovers, clubs, hiding places for items that are unsuitable for parents, and so on. Entire cultures have thrived in tree houses, and—let's be honest—where would Keebler be without them?