I was lucky enough to take photos at this event. Here is a look.

AIAVT Presents Tour of New Center for Art and Education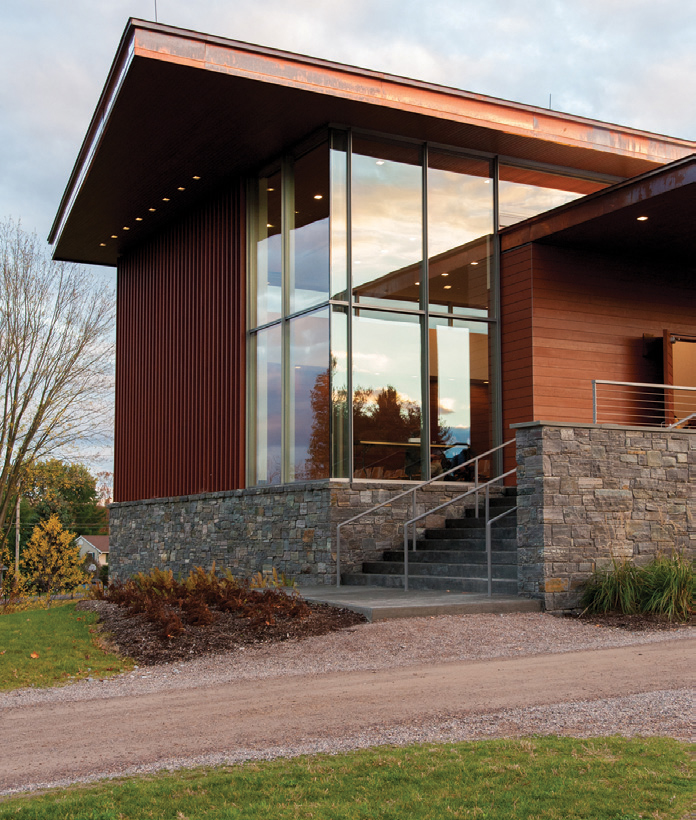 Architects, interns, building professionals, and architecture students gathered together on October 17 for a presentation about museum design and a tour of the newly constructed Pizzagalli Center for Art and Education at Shelburne Museum. The presentation and tour were led by the architect for the project, Steven G. Gerrard, AIA, Ann Beha Architects.
As a senior associate at Ann Beha Architects, Gerrard has worked throughout the country and abroad on significant cultural and institutional projects. His museum work has been nationally published and has received awards from AIA and its Chapters.
The event was made possible by generous support from several companies that provided services for the museum project: Monahan Brothers, Inc., the roofing and sheet metal contractor; Yusen/Lutron, the lighting product supplier; PC Construction, the general contractor; Engineering Ventures, P.C., the structural engineer; and Barre Tile/Morrison Clark, the flooring contractor. Vantem Panels (not involved in the project) was also a sponsor.
"The Pizzagalli Center is a building all about engaging and orienting visitors, a first step in their exploration and enjoyment of the museum's campus. the design uses a material palette of wood, copper, and stone to create a building at home in a setting of traditional buildings of similar materials, while being fresh, contemporary and welcoming in spirit." – Hotaling
---
Read what Ann Beha Architects shared about the project in an interview with World Architects' reporter John Hill, much of which was also included in Gerrard's presentation for AIAVT.
Pizzagalli Center for Art & Education, Shelburne Museum
The Shelburne Museum is one of the most idiosyncratic institutions in the United States, made up of 25 historic New England buildings assembled by founder Electra Havemeyer Webb. Ann Beha Architects added a contemporary art and education center into this eclectic context, giving the museum a venue for year-round activities, when before it closed in the winter months. The architects answered some questions about the recently completed project.