I just got an email from author Doug Keister about his newest book Bullets, Baubles and Bones
! Take a look!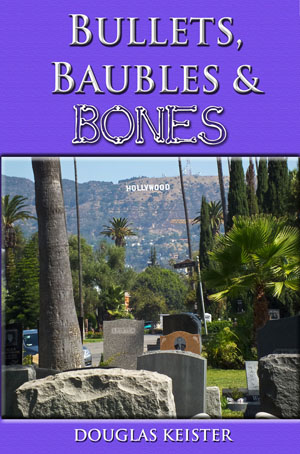 About the Book:
At the beginning of the 20th Century, Mother Russia was in turmoil. After Tsar Nicolas abdicated and the Bolsheviks seized power in 1917, jewels and gold bullion streamed out of Russia. In 1918, when Tsar Nicolas and his family were assassinated, the first volley of bullets bounced off of the Grand Duchess Anastasia because hundreds of jewels were sewn into her corset. This led to decades long speculation that she had survived. But, what happened to the jewels?
In 1923, the United States seized a coffin of a merchant seaman buried in a cemetery in Brooklyn that was supposedly lined with bags of the jewels. In 2009, a woman in Los Angeles claimed that her stepfather helped bury seven coffins full of jewels in the Gobi Desert and that a map to where the jewels are buried is in her step-father's casket in a Hollywood cemetery. In 2012, the United States Geologic Service discovered a discrepancy between two folios inventorying the Crown Jewels of Russia. What happened to the missing jewels?
Join Chick Corbett and Tom Twotrees as they trace the trail of the missing Crown Jewels of Russia, from Siberia, to Brooklyn, to Hollywood. Will they solve the mystery or will the elusive jewels remain missing?
The book is available in Print and for Kindle.
---
---
About the Author:
Chico, California, based photographer-writer Douglas Keister, has authored thirty-five critically acclaimed books. He also writes and illustrates magazine articles and contributes photographs and essays to dozens of magazines, newspapers, books, calendars, posters and greeting cards worldwide. His twenty-five books on architecture include five books on Victorian homes (Daughter's of Painted Ladies, Painted Ladies Revisited, America's Painted Ladies, Victorian Glory and 500 Victorians);twelve books on bungalow homes (The Bungalow, Inside the Bungalow, Outside the Bungalow, 500 Bungalows and eight small format books on bungalow details), a book on 1920s whimsical homes (Storybook Style) a book about cemetery art and architecture (Going Out in Style), a book on Spanish architecture, (Red Tile Style)four books on cottage (Classic Cottages, Inside Classic Cottages, Cottages and 500 Cottages a book on cemetery architecture (Going Out in Style) and a book on Courtyards. Keister photographed and wrote an award winning children's book (Fernando's Gift), has two monographs of his personal work (Black Rock and Driftwood Whimsy), and four books on classic recreational vehicles, Ready to Roll, Silver Palaces, Mobile Mansions and Teardrops and Tiny Trailers. His wealth of books on architecture has earned him the title, "America's most noted photographer of historic architecture." His book on cemetery symbolism, Stories in the Stone: A Field Guide to Cemetery Symbolism and Iconography, has garnered a number of glowing reviews. Sunset magazine said, "Keister has done for cemetery exploration what Audubon did for birding.?/span>
He is currently working on two children's books shot in China, To Grandmother's House: A Visit to Old-Town Beijing (January 2008), and Tao Tao's Green Gift (Spring 2009), a book on Southern cemeteries, Forever Dixie (Fall 2008) and a book featuring his collection of glass negatives. Lincoln in Black and White 1910-1925 (Fall 2008)
Doug frequently gives presentations in conjunction with his books and is a frequent speaker at related events. In the past few years he has lectured in Los Angeles, San Francisco, San Diego, Chicago, Atlanta, Cincinnati, Cleveland, Spokane, Kansas City, Boston, Milwaukee, Vermont, Winnemucca and Carson City, Nevada, Lincoln, Nebraska, The Smithsonian in Washington D.C. and the Cooper-Union in New York.
When not photographing and writing books, he shoots offbeat photos in the Nevada Desert.
Visit his website for more information www.keisterphoto.com