Noah's Song begins with …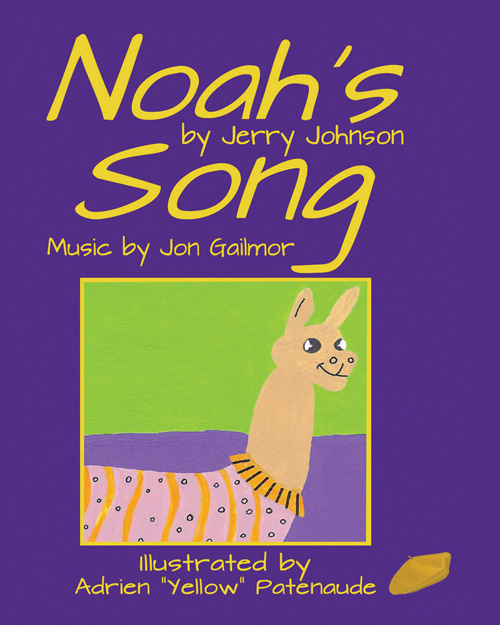 Have you ever seen llamas wearing pajamas
or a dancing cow in a herd?
Or a big bull moose atop a caboose?
Are all my questions absurd?
I was building an ark when I heard my dog bark
at a long-haired orangutan.
The sight of this ape with a muscular shape
was enough to frighten any man!
Just the other day while out making hay
I saw a vision that made me take heed —
A black and white skunk dressed like a monk,
riding a unicorn steed.
Then I spotted a cheetah eating Velveeta,
playing chess with a colorful bird.
The bird, though colossal, seemed quite docile —
I hope you're not doubting my word!
Amphibians, reptiles, mammals
Come aboard without a fear
From a horned toad to a lumpy camel
Different as can be, but all family
On the Ark—survival is the name of the game
On the Ark—doesn't matter from whence you came
On the Ark we're all equal, all the same
On the Ark!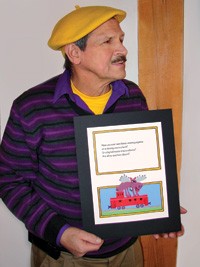 Illustrator Adrien "Yellow" Patenaude
Noah's Song is a beautifully illustrated children's book. Hardcover, 45-plus pages. Jerry's "Noah's Song" poem was set to music by the talented and much-beloved Vermont singer, Jon Gailmor. A CD of Jon's delightful musical rendition accompanies the book. Kids of all ages will be able sing along as they pass through the pages which are whimsically illustrated by the popular artist, Adrien "Yellow" Patenaude.
Praise for Noah's Song
"Noah's Song is another wild and warmhearted rhyming tale from Jerry Johnson, full of happy mayhem, with an ark-full of creatures creating all kinds of adventures … fun for children of all ages and all species! Noah's Song is further enhanced by the bright, delightful paintings of Adrien "Yellow" Patenaude, and accompanied by the always captivating music of one of Vermont's master musicians, Jon Gailmor." — Reeve Lindbergh, celebrated author of children's books
"Noah's Song captures just the right balance of reverence and silliness: any youngster (and most adults) will quickly fall in love with it! Adrien Patenaude's bright illustrations add extra zest, and Jon Gailmor's spirited voice and lively guitar lift Jerry Johnson's poem into the company of unforgettable children's songs." — Geof Hewitt, Vermont Poetry Slam Champion
"Jerry Johnson's Noah's Song an original and poignant book for children of all ages. Jerry has an inclusive vision, and the illustrations are wonderful. The CD, with Jon Gailmor, brings it all to life." — Howard Frank Mosher, award-winning Vermont author

About the Author & Poet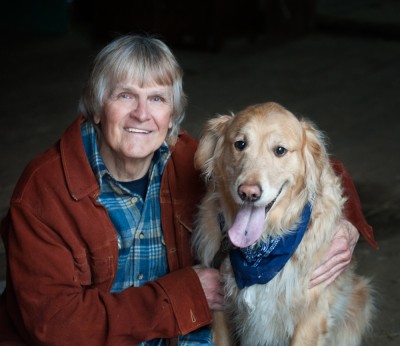 Jerry Johnson lives in a restored century-old schoolhouse on a farm in Vermont's fabled Northeast Kingdom, and the stimulus for much of his work stems from the natural beauty of this Vermont region.
Jerry taught for 29 years at the middle school, high school and college levels. He is a retired professor from Fitchburg State University in Massachusetts where he was a finalist for the school's excellence in teaching award. In addition, he has been a civil engineer, tennis pro, carpenter, artist, freelance writer and editor.
Jerry is a graduate of the University of Massachusetts at Amherst where he was honored with the Eastern College Athletic Conference Award as the school's top scholar-athlete. He received his master's degree in civil engineering from Purdue University. Jerry has been ranked in the Top 10 in New England tennis. He's nearly as passionate about tennis as he is about poetry.
Connect with the author
Facebook • Website • Goodreads