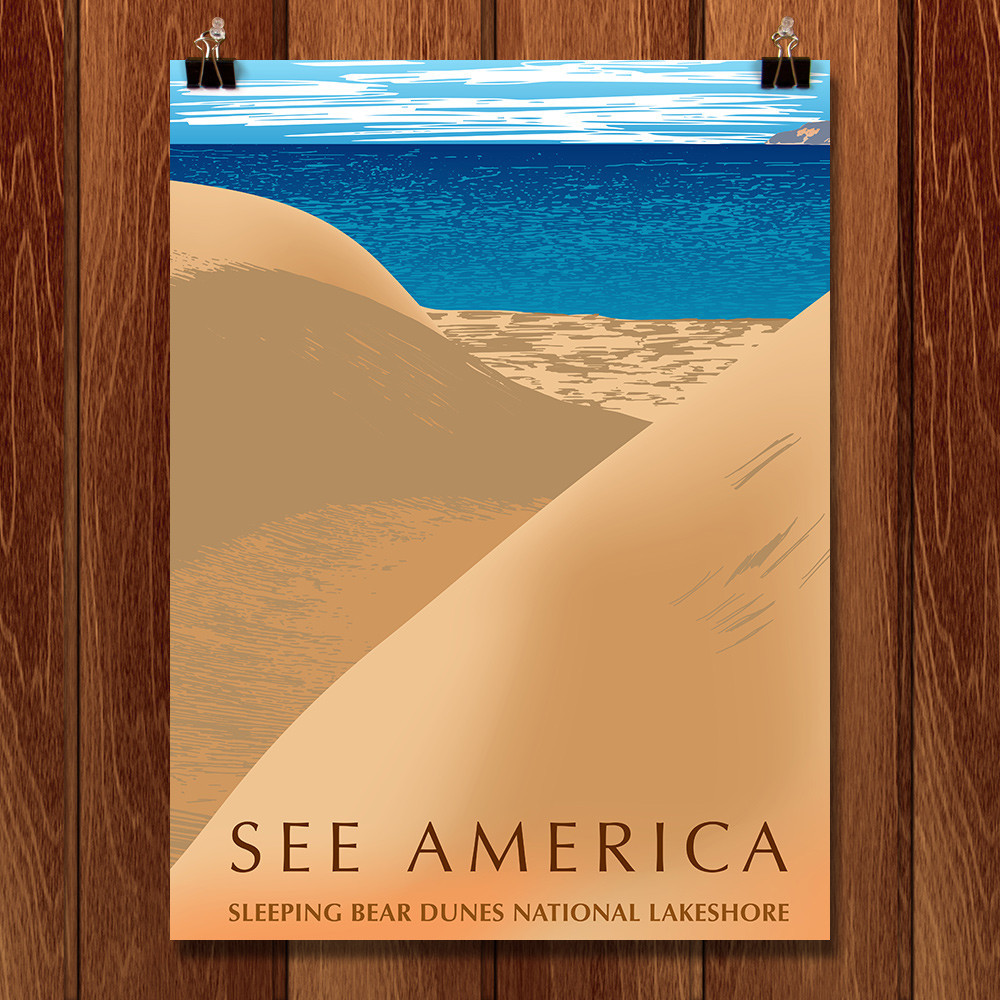 Sleeping Bear Dunes National Lakeshore by Mark Forton
Over the past couple of months, The Creative Action Network (CAN) has worked with National Parks Conservation Association (NPCA) on "Seeing America." It uses art and design to help bring awareness for the need of funding for our national parks as they approach upcoming budget cuts in two years. It is a great project, so check it out!
About the Poster
Sleeping Bear Dunes National Lakeshore is a United States National Lakeshore located along the northwest coast of the Lower Peninsula of Michigan in Leelanau County and Benzie County.
Mark, aka mafMOVE, is a contemporary mixed media artist. His work has been described as a "collage of abstract forms and modern POP interlocked in a digitized dreamscape." Originally from Michigan, he currently reside in sunny California.
About The Project

Over 75 years after the government first commissioned posters to showcase the country's most stunning natural features under the banner: "See America," The Creative Action Network (CAN) has set out to do it again by launching a new version of See America, a crowdsourced art campaign, enlisting artists from all 50 states to create a collection of artwork celebrating our national parks and other treasured sites.
With the centennial anniversary of the National Park Service approaching in 2016 and the continued threat of budget cuts today, Creative Action Network put out a call to its community of artists and designers around the world to create a new collection of See America posters for a new generation. The posters will highlight natural, cultural and historic sites across the country depicting our shared history and encouraging individuals to reconnect with these places. CAN has partnered with the National Parks Conservation Association (NPCA), who stepped up to sponsor and support See America.
This new collection of See America posters will be on display in a special exhibition at the Franklin D. Roosevelt Presidential Library and Museum in Hyde Park, New York, opening to the public on January 11, 2014. The exhibition is scheduled to run from January 11 through June 30. Another exhibition is scheduled in San Francisco at Intersection For The Arts from January 10-25, and additional exhibitions are in the works across the country.