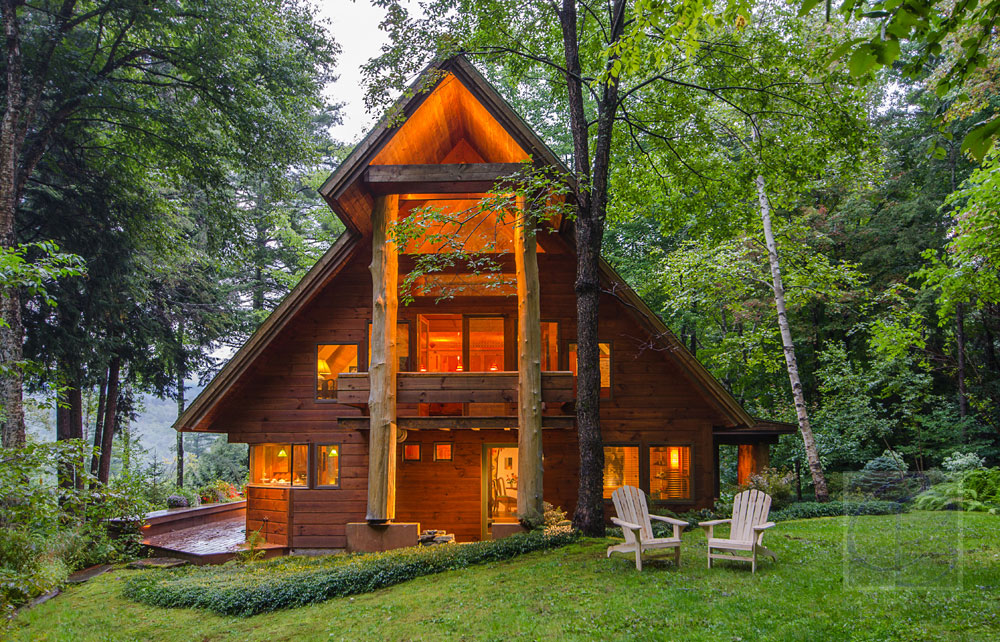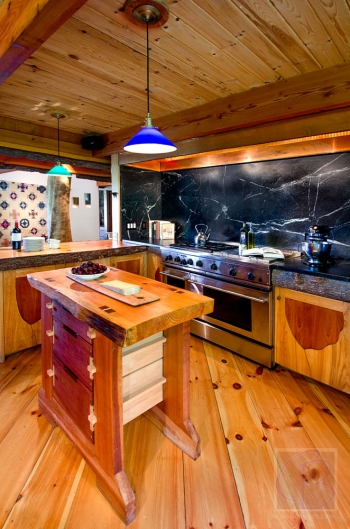 Even though it poured rain ALL DAY, taking photos at the Upper Pines Lodge was a fun day. I just grabbed a huge polo umbrella when I was outside.The architect, Dave Sellers, outdid himself once again, with unusual design. By using real trees line up on both sides of the entry hall, the architect was able to take the nature that surrounds this structure and highlight it. In addtion, the diagonals in kitchen, fabric and stained glass chandeliers, and curving roof lines all added to the true uniqueness of this lodge. This is truly a perfect pairing of nature & architecture.
And even more pleasant, you can rent this lodge. Visit the Upper Pines Lodge website for availabilty.
About the Upper Pines Lodge
Nestled in a secluded cul-du-sac near Sugarbush Resort, Upper Pines Lodge looks out over 7 wooded acres of the Mad River Valley in Warren, Vermont. Upper Pines Lodge was built in 2001 with the help of one of America's most famed architects, David Sellers.
At Upper Pines Lodge, Mother Nature marries architecture in its 3-story atrium and hand–crafted lighting fixtures. Putting the architectural wonders aside, perhaps the real magic lies in experiencing the colorful displays of autumn, hiking on moss covered trails, cool summer breezes that roll off the mountains, fine dining in area restaurants, wild flowers that come alive in spring and snowflakes that blanket the mountains and fields come winter.
Upper Pines Lodge
Warren, Vermont, VT 05674
Visit Our Website
Phone: 617.945.5157
Email Us!
Take the Tour!