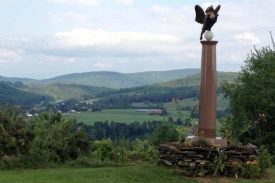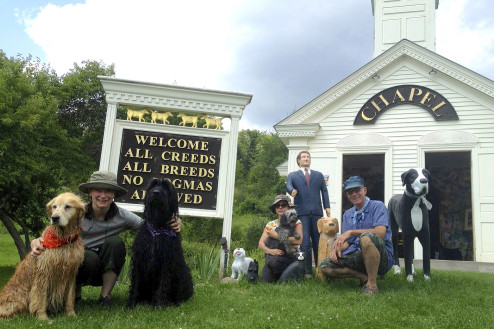 The Dog Chapel sign serves as backdrop for hundreds of family portraits. Pictured here, Elizabeth with Fernandina and Dovekie, Ana with Tomas, and Chris nestled among Stephen's collection of dog statuettes.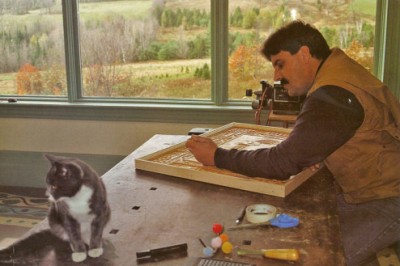 Stephen working on a woodcut in his home studio.
There is a great announcement from Dog Mountain!
It's our enormous pleasure to announce today that their documentary, Dog Mountain: A Love Story, is now live, together with a wonderful companion website. Or download it via Long Haul Productions' podcast.
Elizabeth and Dan are dog lovers and lovers of Dog Mountain, and it shows. Their documentary is an extraordinarily sensitive, beautiful, and heartfelt telling, woven together from many hours of interviews and on-location recordings. It's been a real labor of love for them, and we feel enormously fortunate that it was Elizabeth and Dan who came forward to take this project on. It's truly a work of art.
Their companion website is unlike anything we've seen before. It features 360-degree panoramas of Dog Mountain and the Dog Chapel, including the Dog Chapel's interior, that let you pan around and explore, zooming in and out. Lots of hotspots are sprinkled around in each panorama. Click on the hotspots for more photos, audio clips, and videos. It's the next best thing to a visit to Dog Mountain.
About the Movie
Dog Mountain: A Love Story was produced by Dan Collison and Elizabeth Meister for Long Haul Productions, with support from the National Endowment for the Arts and KCRW's Independent Producer Project. Special thanks to KCRW's Bob Carlson; Ali Ide (who generously allowed us to excerpt from her interview with Gwen Huneck); our panoramic photographer, Carlton SooHoo; Tom Jennings (who added beautiful still photographs); Rebecca Perl (who assisted with recordings); and to Martin Lee at the digital design firm Research+Design. Thanks also to Josephine Foster for her music and Benjamin & Katherine Almquist for their reading of Sally Goes to the Beach. We are especially grateful to Jon Ide & his family; the Dog Mountain staff; Darcie McCann; Chris Aubry & Ana Hernandez (and their dog, Tomas); Katie Hangley & Howard Simon; and to Stephen & Gwen Huneck, who gave us, and our dogs (Fern & Dovekie), one of the best days of our lives.
More Links to Visit:
Dog Mountain & The Stephen Huneck Gallery
Join them on Facebook: Long Haul Productions and Dog Mountain