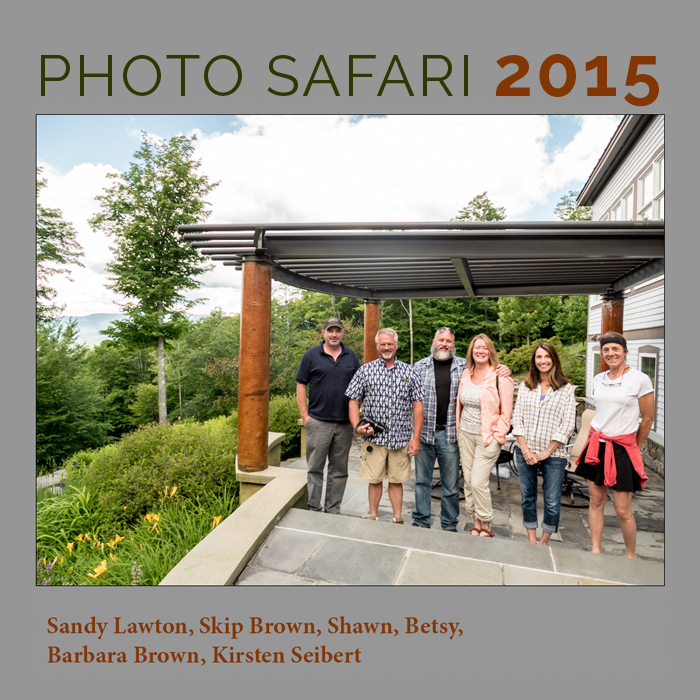 Sandy Lawton, of Arro Design, Kirsten Seibert, of Broadleaf Landscape Architecture and I gave a PHOTO SAFARI, which included tours of Sandy and Kirsten's home and in their barn where they are building a new home, complete with beautifully colored concrete kitchen counters. Then we drove to see Sandy's fabric formed concrete TreeHouse, and Kirsten's well designed very steep sloped landscape with pergula, We had a magnificent lunch, and finally camera raw classes by Carolyn L. Bates Photography.
About Kirsten Seibert:
Broadleaf Landscape Architecture has been in business since 1995 when it was established as a sole proprietorship in the Mad River Valley. In the year 2001 Broadleaf became a limited liability partnership when Landscape Architects Kirsten Seibert and Megan Moffroid combined thier talents.
For over a decate, Broadleaf Landscape Architecture has been practicing the art and science of design by balancing client visions, program requirements, site considerations and budgets. The scope of our work includes planning, design, construction management of residential, civil, institutional and commerical projects. We strive to create project which fit gracefully and inevitably into thier sites by providing valuable input and leadership in all phases of project development.
Visit the Broadleaf Landscaping website.
About Sandy Lawton​:
Sandy has been a professional in the construction industry for the past 25 years as a practitioner and designer. He received his undergraduate degree from Vanderbilt University in 1987 and his Masters in Architecture from the University of Virginia in 1994. His professional experience includes design work on cultural projects in Germany, as well as civic, commercial and residential projects in Central Vermont. In 2004, Sandy founded ArroDesign. His work has been featured in many magazines and has received several awards.
Sandy is also an accomplished woodworker, metalworker and concrete mason. This unique combination of skills gives him the ability to create truly innovative works that utilize a wide range of materials in unique ways. His concrete designs push the boundaries of what many consider possible and are changing the way people view concrete in terms of beauty and sustainability.
Visit the Arro Design website.