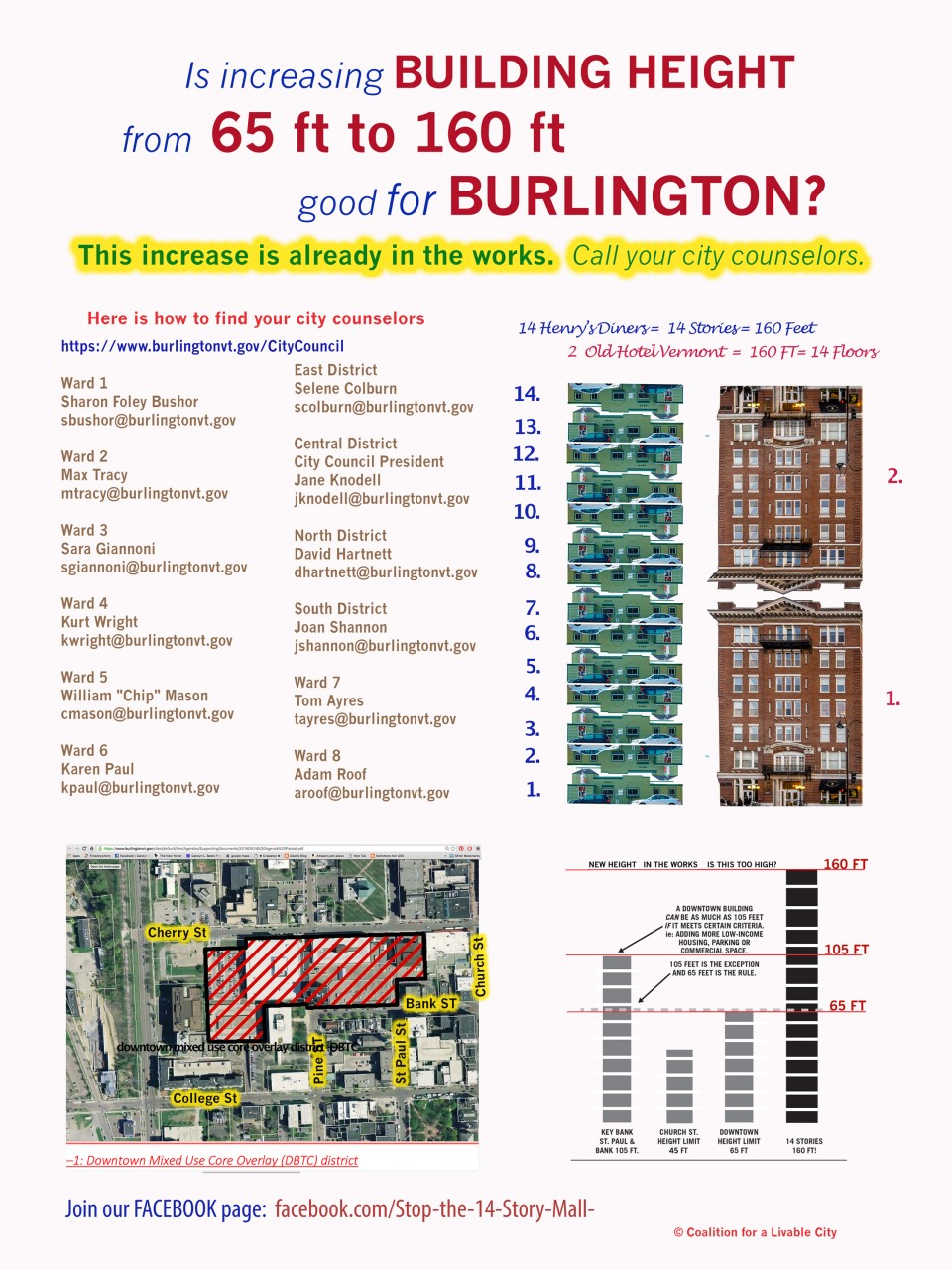 UPDATE: For a while we worked on stopping the mall from redeveloping to 160 ft, but decided that our fight should instead be redirected to the overal permanent zoning change that the city requested. You can still stay in the loop on Facebook, at the Stop the 14-Story Mall Page where can join in the discussion to find out news news, facts, strategy for demanding public process, due diligence, and sanity in evaluating the mall project in Burlington. Also visit The Burlington Free Press for the latest coverage!
---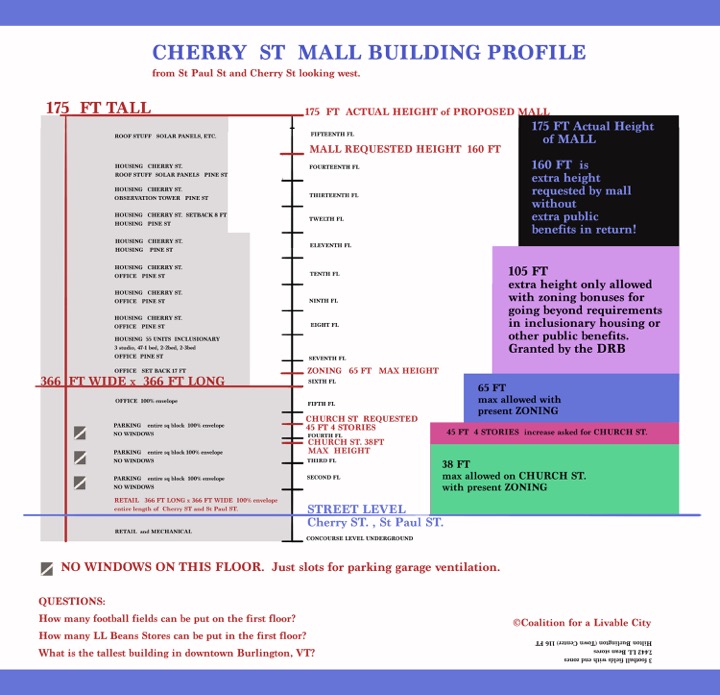 What would a 14-story mall-apartment complex bring to Burlington?
WOULD IT EXPAND THE TAX BASE? NO.
Because the opening up of Pine and St. Paul are to be paid for by Tax Increment Financing (TIF), about 75% of any tax income would have to go to pay back the 22 million in TIF money for at least 20 years. Depending on the economy, and the success of the development, tax payers could actually be left with the burden of paying back the loans needed for the project. We could lose money, not gain it.
WOULD IT ALLEVIATE OUR HOUSING AFFORDABILITY IMBALANCE? NO.
With 80 units slated to house Champlain College Students who currently live in a dorm in Winooski, the development would neither open up Burlington housing currently used by students, nor would the space allotted to students be available for other residents. Further, of the leftover units, only 50 would be allotted for lower income residents, leaving 50% high end apartments; nor is there any guarantee that the developer would not simply pay the fee to avoid building even those 50 units, which are, furthermore, small, with one-window, and segregated in the least desirable spot, above a multi-level parking garage. New housing units are going up all over town, often, as in the case of the Burlington College development, at great cost to our environment and quality of life. No one has established how many new units we need or what kinds of units might conceivably help to bring down the rents, but most experts maintain that market rate and luxury units only exacerbate the current affordability problem.
WOULD IT BE A GREEN ALTERNATIVE TO CAR CULTURE AND SPRAWL? NO.
The green argument for this development is disingenuous at best. Most of the people who work in downtown Burlington would not be able to afford these apartments and middle to low-income residents will have to find housing outside of the city as such luxury developments become the norm; there is no reason to assume that residents would work in walking distance to their new apartments; and, this supposedly green development comes with 945 parking spaces, even though our recently adopted parking plan is committed to reducing parking spaces downtown.
WOULD IT GIVE US NEW PUBLIC STREETS? NO.
The "streets" promised in the development plan would not be public. While the city would pay for them and maintain them, the developer would own them, benefit from them, and have the right to close them off for private events. There is a building in the way of one proposed street, and another would have to zig-zag in impractical, potentially dangerous ways. We (and they) do not even know if they could be built.
WOULD IT BE GOOD FOR THE LOCAL ECONOMY? WE DON'T KNOW.
There has been no feasibility study to analyze whether a refurbished mall would do any better than the current mall, which may be failing due to the rise of internet commerce and the same developer's own neglect of the premises. Local businesses would likely not be able to afford to rent space in a luxury venue and there is no way to predict whether businesses on Church Street would benefit or suffer from the competition. While work would be generated by the construction of a new building, the number of long-term jobs generated by a new mall without a 14-story tower would be the same as one with a 14-story tower, and would not necessarily provide a significant increase over the jobs provided in the current mall.
DOESN'T THE LOCAL BUSINESS COMMUNITY SUPPORT THIS DEVELOPMENT? WE DON'T KNOW.
While Ron Redmond read a list of Church Street businesses who supposedly supported the new mall and its 14-story apartment tower, these businesses only gave their approval for a renovation of the mall, not knowing the specifics of the current project.
DOES IT FOLLOW THE GUIDELINES OF PLAN BTV? NO.
In planBTV, the majority of those polled expressed satisfaction with the current scale of our buildings. The plan talks about the value of "human scale" and shows us buildings no more than 8 stories high. more on back…
WOULD IT REQUIRE A ZONING CHANGE THAT OVERRIDES PUBLIC OPINION & DEMOCRATIC PROCESS? YES.
The City Council voted against the height increase proposed in the required zoning overlay district in 2009 and Plan BTV Downtown/Waterfront concluded that we the people are comfortable with the height allowance as is and that an increase in urban infill need not mean an increase in height. Yet the language of the zoning overlay explicitly claims that the change would be made to facilitate and "to implement many of the central goals and objectives found in the planBTV: Downtown and Waterfront Master Plan unanimously adopted in June 2013".
COULD THE ZONING CHANGE BE SPOT ZONING, AND THEREFORE ILLEGAL. YES.
An article on Planners Web states, the "classic" definition of spot zoning is "the process of singling out a small parcel of land for a use classification totally different from that of the surrounding area for the benefit of the owner of such property and to the detriment of other owners," and continues: "Spot zoning is, in fact, often thought of as the very antithesis of plan zoning…Perhaps the most important criteria in determining spot zoning is the extent to which the disputed zoning is consistent with the municipality's comprehensive plan".
COULD THE ZONING CHANGE CREATE A PRECEDENT FOR "BY RIGHT" ALLOWANCES FOR FUTURE DEVELOPERS WITHOUT PUBLIC BENEFITS? YES.
The language of the zoning overlay explicitly states that this new overlay district would not be subject to the usual requirement of public benefit in exchange for height increases: "It creates an overlay district to encompass a 1-2 block area in the core of the downtown area to enable taller Building Height without the necessity of a "bonus" from the DRB (Design Review Board)."
WOULD IT AVOID ENVIRONMENTAL REVIEW AND DUE DILIGENCE ON INFRASTRUCTURE STRESSES? YES.
The developer is trying to avoid undergoing Act 250 environmental review by building 274 units instead of 275. This is unethical, if not illegal, and planning and zoning and the city council should demand an Act 250 review of adverse environmental effects and careful studies of future stresses on infrastructure, storm water, sewage, and traffic for a project of this magnitude. Sadly, we cannot trust our own Design Review Board with this because many of its members, including the lawyer who defended our developer-mayor in his own case against local residents at Packard Lofts, are clearly biased towards weakening the development review process.
WOULD THE REQUIRED ZONING CHANGE ENDANGER NEARBY HISTORIC BUILDINGS? YES.
IF one developer can claim hardship as an excuse to have our local zoning changed, others will as well. Historic buildings on Church, Cherry, and Bank Streets will be subject to destruction as developers will claim that they too need to build higher to pay for their investments.
COULD THIS DEVELOPMENT LEAVE US WITH A HOLE IN THE GROUND LIKE NEWPORT NOW HAS? YES.
We know nothing about the credentials of Don Sinex and the city is taking steps to change our zoning within the next months, before they have required evidence of Sinex's viability as a partner.
WOULD IT DESTROY VIEWS, SUNLIGHT, AND THE CHARACTER OF OUR DOWNTOWN? YES!!!!
To find out more about Don Sinex's development proposal, and the City's rush to comply to his demands (Planning and Zoning will vote on the zoning change on JULY 9th!), visit our Facebook page Stop the 14-Story Mall, and check for updates on Meetings and Actions. (And please "like" our page.) Let City Council and the Mayor know your views before it is too late.
Sponsored by the Coalition for a Livable City — We advocate for a city that is people-oriented, ecological, and human scale. A city with sunlight, views, character, and real grassroots democracy, that is livable for all people, not just those who can afford high-end lifestyles. On Facebook: Stop the 14-Story Mall. Also visit our blog: coalitionforalivablecity.blogspot.com
Get involved. Write to City Councilors: www.burlingtonvt.gov/CityCouncil
Write to Planning Commissioners: www.burlingtonvt.gov/PZ/PC/Membership
Come to city meetings, talk to friends, post on Front Porch Forum and write to the newspaper.
---
HELP NOW!
STOP THE MALLING OF BURLINGTON. THE PLANNING COMMISSION COULD APPROVE "MONSTER HIGH-RISE" AS SOON AS MAY 24!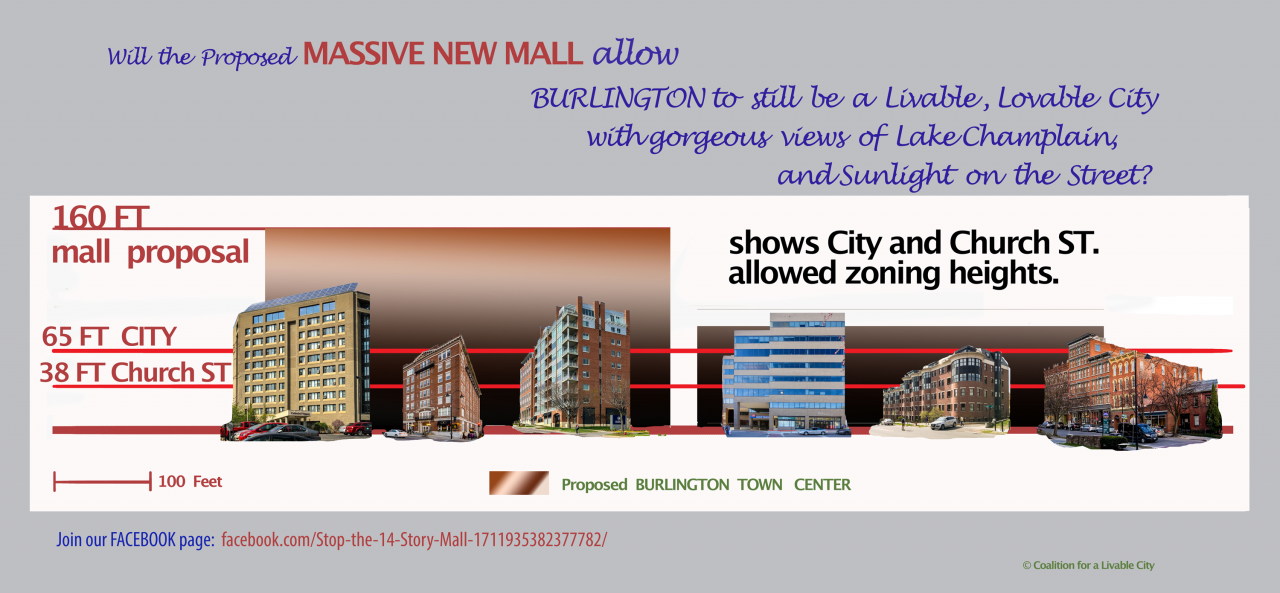 The City Council has approved a pre-development agreement for a 14-story mall on Church Street and the planning commission is in the process of evaluating a massive zoning change that will be necessary to build this mall. The public will be asked to approve the expenditure of approximately 21 million in tif money for the project as it now is planned. A coalition of citizen groups is demanding meaningful public processes and a slowing down of this radically out-of-character project.
The proposed redevelopment of the Burlington Town Center Mall is a transformative project in our downtown. Many residents have either attended one or more of the six public events and engagement sessions related to the redevelopment, attended City Council and Planning Commission meetings to provide comment, or have submitted questions and comments to these boards, staff, and the mall owner. The City has compiled a list of frequently asked questions to provide clarity and information around issues such as zoning, height, public process, the role of Tax Increment Financing (TIF) in the project, and other City commitments. You may find the FAQ document and submit other comments or questions about the project (as you scroll down) at this link: https://www.burlingtonvt.gov/CEDO/BTV-Mall-Redevelopment-Process
---
Building height, scale remain Burlington issues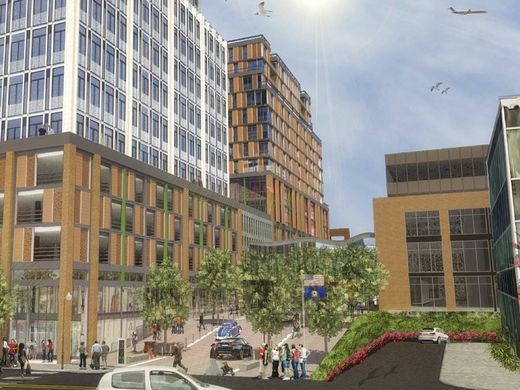 At the onset of its city approval process, a 14-story residential and office building proposed for downtown Burlington has garnered starkly contrasting reviews.
Height, in this case, is the primary divide between proponents and skeptics.
Illustrated arguments from both sides purport to show how higher buildings might enhance or ruin the Queen City.
Can a building reach a locally unprecedented altitude of 160 feet above street level and preserve a sense of scale that will be appealing to residents?
Both parties will pitch their perspectives to the Planning Commission at 6:30 p.m. Tuesday at the Department of Public Works building, 645 Pine St.
For the project to advance, the commission must approve a zoning change that would allow for a building height increase in a narrowly defined downtown area.
That sticking point could subvert the new Burlington Town Center — as well as some of the primary tenets of the city's own guidelines for downtown growth, developer Don Sinex said Monday.
---
Burlington building height debate draws opinionated crowd

May. 25, 2016, 7:06 pm by Morgan True
BURLINGTON — A familiar scene played out at Tuesday night's Planning Commission meeting, where the agenda included preliminary discussion of a zoning change meant to accommodate a massive downtown redevelopment project.
At recent public meetings when the $220 million plan to replace the Burlington Town Center mall has come up, it's drawn an outpouring of public sentiment, both for and against.
That was the case again Tuesday during more than two hours of public comment at only the first of several meetings before a commission that will simply make a recommendation to the City Council.
It was a vivid illustration of the anxiety of both supporters and opponents.
For opponents, the redevelopment represents a playground for the rich that will ruin Burlington's small-town New England character. Supporters hope it will save Burlington — and by proxy the entire state — from parochial obscurity and economic decay.
One side says approval is being rushed; the other says the city can't afford to drag its feet or the mall's owner, Don Sinex, will take his $200 million investment off the table.
---
Critics Crowd Burlington Meeting to Oppose Building-Height Increase

by Molly Walsh • May 25, 2016 • Off Message at sevendaysvt.com
Don't let downtown Burlington turn into a concrete canyon by increasing allowable building heights, many speakers said during a packed Planning Commission hearing Tuesday night.
More than 100 people jammed into a meeting room mostly to express dismay and outrage over a proposal to increase the height limit for a swath of downtown from roughly 105 feet to 160 feet, or about 14 stories, in order to accommodate the $200 million-plus proposed redevelopment of Burlington Town Center.
The Planning Commission members listened but did not vote on a zoning amendment proposed for a special district that encompasses the mall and a few surrounding buildings. The commission is under pressure to make a recommendation on the zoning change to the city council by early July in order to stay on a timeline set for the project in a predevelopment agreement. The council approved the agreement May 2.
During public comments that went on for two hours, some speakers supported the height increase as necessary to make a much-needed mall makeover happen. But they were strongly outnumbered by critics, many of whom carried signs that read: "Our Zoning For Our Community!"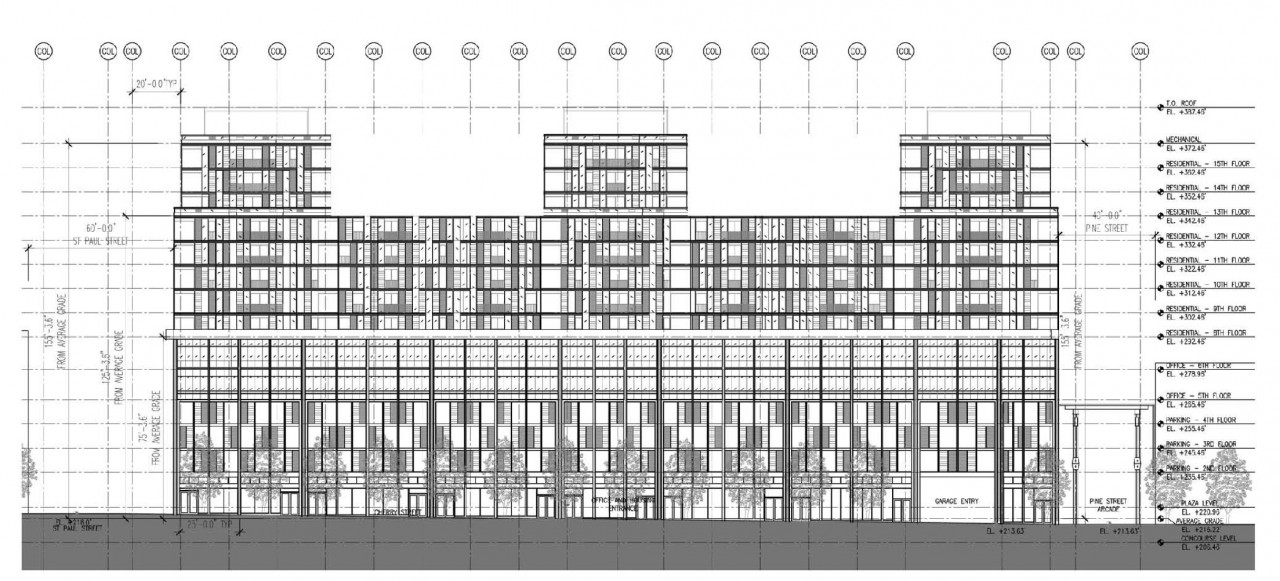 Drawing of the proposed mall
---
A virtual look a proposed Burlington Town Center mall redevelopment
---
Sun shadow study prepared by Burlington Town Center mall
---