ONCE THE HUB OF A DAIRY FARM, LARGELY UNCHANGED, SIMPLE AND TRADITIONAL, THIS FARMHOUSE IN RURAL VERMONT HAPPILY EMBRACES COLOR USED WITHOUT INHIBITION.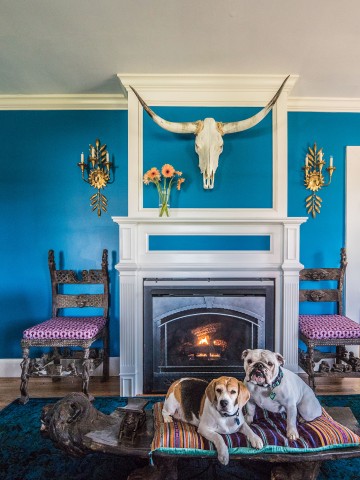 BY REGINA COLE | PHOTOS BY CAROLYN BATES
Artist and interior designer Jenny Blanchard has an uninhibited aesthetic that developed in the far-flung places she has lived. Rooms in her old Vermont farmhouse show her penchant for creat-ing spaces that grow and change over time. The new takes its place alongside the historic, without regard for what is "proper" or "in good taste." Jenny calls the result The Aesthetic of Joy.
"As an interior designer," she says, "I market color. People are scared of color, afraid that things won't match. But when clients come into my shop, they sometimes weep in response to the joyful colors."
When she was in her twenties, Jenny worked as a refugee-camp nurse. Over the years, she's lived in the Sudan, Bu-rundi, Malawi, Ethiopia, the Philippines, and India. She met her Parisian husband in Khartoum, and they and their children made their home on the southern coast of France for 16 years.
Read the complete article here.
Take a Tour of this Colorful Home