Who wouldn't want to cozy up near this beautiful fireplace? LineSync Architecture created the most stunning space at Mount Snow, VT. Below is a little more information about this Eco-FireWall.
To see the whole new look at Mount Snow, click here.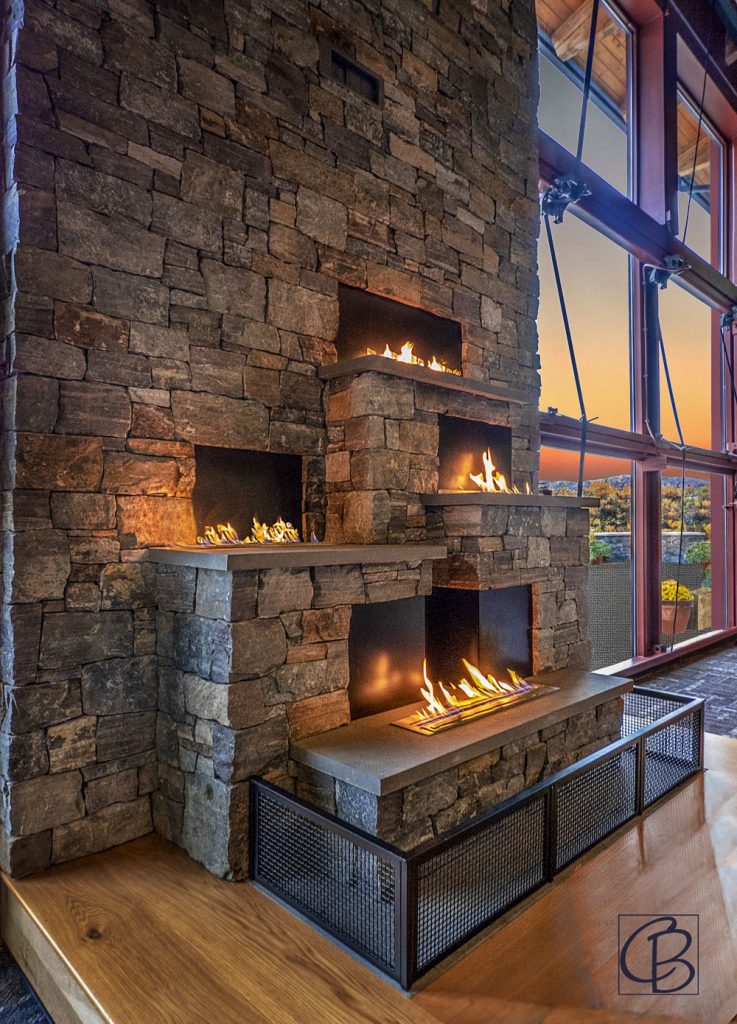 What was the inspiration behind the Eco-FireWall?
How big can you make a fireplace in a very large room? Fireplaces have a time-honored tradition of providing an intimate space for warmth to gather around. The challenges faced by the Carinthia Base Lodge design team:
1. The fireplace had to feel right-sized in a two-story space that was over 100 x 100 feet, and over 40 feet tall at the ridge of its enormous vaulted ceiling. The scale of this 500 person capacity room was daunting, to say the least.
2. There simply was no room to make a big enough fireplace. The stone flue wall is a mere 15′ wide sandwiched between two enormous 16×24 airplane hanger doors and transom glass walls. Landscape Architect Adam Portz of SE Group in Burlington, VT, strategically oriented the doors to provide direct views of an enormous snow front with two ski lifts serving a massive super pipe and 7 ski trails that feed into the area.
3. The accepted wisdom in the mountain sports Industry: If you can't go big, go home. That wasn't an option for us. Instead we woke up one morning with a brand new first time concept.
What if we didn't sprawl at all? What if we grew tall to make a fire wall?! The design team at LineSync Architecture conceived the first ever four level stepped "FireWall®" feature for a ski lodge. The design team didn't stop there; we went green! FireWall is a bio-fueled using the products of industry leader EcoSmart. FireWall adds no pollutants to the air and is probably the most environmentally friendly alpine lodge fireplace in existence today.
How does it add to the lodge's ambiance?
Incredibly! Because of the close collaboration with our interior designer, Christine Burdick of Burlington, Vermont and LineSync Architecture the FireWall® is both an intimate place to gather around on three sides as surely as it serves as a focal point for the 12,800 square feet of space it serves.
THE CLIENT: Mr, Dick Deutsch is one of the three owners of Peak Resorts, who prior to their recent sale to Vail resorts, owned 17 ski mountains. Dick was extraordinarily trusting and supportive of admittedly novel concept and went to bat for us when many others challenged the feasibility of our unique FireWall® concept that had never been done before. I've said it before and I'll say it again, Great architecture comes from Great Clients. Of the many good clients I've worked with over many decades Mr. Deutsch ranks In the top 1%. Thank you, Dick!
THE BUILDER: Scott Dupuis of Dupuis Construction was a capable ally in making the entire 3 storey 500 plus person Ski Lodge not only feasible but beautiful. He rallied his subcontractors To support the architectural concepts in a way that few other General contractors have the patience and fortitude to carry out. Thank you, Scott!
THE ASSOCIATE ARCHITECT: Dave and Steve Roy of Wiemann Lamphere And Associates worked hand in glove to provide the technical clarification in their construction drawings to address the intricacies of the project. I fondly remember working with their very capable Technical Delineator, John LaMothe, during our VAM session, (Voice Activated Modeling). He patiently took in our design team's verbal directives as we stood around watching the screen as he transformed our 3d sketchup model into a precise BIM model. Thank you, John Dave and Steve!
FOOTNOTE:
Ridge ht: 42'. Square footage: 2nd & 3rd total public space: 12,840 SF. (2nd fl: 7120 SF, 3rd fl: 5720 SF)
---
About LineSync Architecture
LineSync Architecture is a holistic design studio with a diverse team of excellent designers offering a variety of talents. Housed in a three-story building, serving as our laboratory for innovation. A model of green design, it was one of the first buildings in Vermont to be constructed with Insulated Concrete Forms. An aiaVT Merit Award winner for design, the studio building is also an annual stop on the National Solar Tour sponsored by the North East Sustainable Energy Association.

Julie Lineberger, EdM Harvard, is the Managing Partner that guides the firm's steady growth and maturation. Principal Architect Joseph Cincotta is a LEED Accredited Architect registered in Vermont, Massachusetts, New York, New Jersey, Illinois, New Hampshire, and North Carolina; he also has designed over ten million dollars of construction in the Middle East and Europe. LineSync Architecture is very proud of our well educated (Harvard, Temple, University of Colorado, University of Massachusetts, Wentworth Institute of Technology, etc) design team members with demonstrated experience. We are fortunate to have attracted top performers who are fully empowered to contribute in a multitude of diverse solutions in the service of our clients.

We are a sought after place of employment due to the range of our innovative and green projects, as well as our socially responsible business practices. Principal Julie Lineberger is past Board Chair for Vermont Businesses for Social Responsibility, an organization of 600+ Vermont Businesses representing roughly 10% of Vermont employees. Most recently, LineSync Architecture was recognized in Vermont Business Magazine and the Brattleboro Reformer for its local talent. Our commitment to providing careers for young designers to come home has its rewards in the quality and dedication of our team. More than fifty percent of LineSync Architecture's employees are native to Vermont.

As a Vermont registered M/WBE (http://bgs.vermont.gov/facilities/mwbe), LineSync Architecture has garnered numerous awards and recognition for innovative design, construction documentation and business management throughout our 25-year history (founded 1988). These awards, combined with our reputation for environmentally and socially responsible business practices, bring to light our innovative approach to projects.