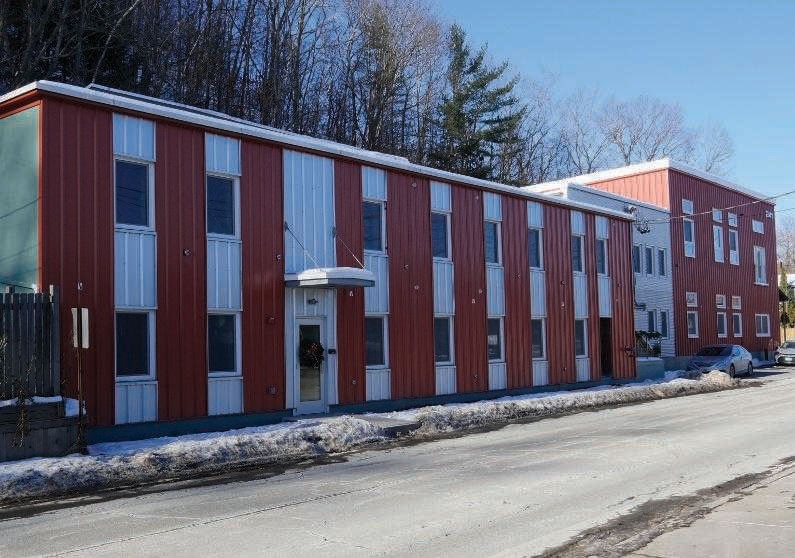 A former "Butler Building," Mike Davidson considers this converted dry cleaners building on South Main Street his greatest achievement. It now contains 36 units of "industrial chic" studio apartments, half of which are permanently on lease to nearby Northern Stage, to house its constantly changing roster of actors and support staff. Photo by Carolyn Bates. Rendering (right) by Studio Nexus.
White River Junction, Then And Now
by Dick Nelson
There was a time, not so long ago, when White River Junction was not cool. In fact, it was more like the poor step sister to the larger and more prosperous communities of Hanover and Lebanon, which make up what was once called the Tri-Town area.
That has all changed. Although the Town of Hartford (which also contains the villages of Wilder, Quechee, Hartford and West Hartford) still has its challenges, White River Junction has now become a drawing card rather than a burden.
"We're seeing investment in all parts of White River Junction, including uptown, near the interstates, and Taft Flats, near the high school," says Lori Hirshfield, Hartford's director of planning. "It's infectious. Downtown White River has been the key."
The turnaround in White River Junction began more than a decade ago with the arrival of the Center for Cartoon Studies, which set up shop on South Main Street, and the conversion of the former Tip Top bakery building on North Main Street into a combination of stores, offices, studios and a restaurant, by entrepreneur and select board member Matt Bucey.
"You have to give credit to Lori, (zoning administrator) Joanne Ellis and their entire staffs," says architect Jim Wasser of Studio Nexus, who has been able to witness the renaissance from the window of his second floor office, located in the historic former U.S. Post Office Building, which is now the main headquarters of the cartoon school.
Read more by downloading the PDF.